The full list: HIRE22 Award winners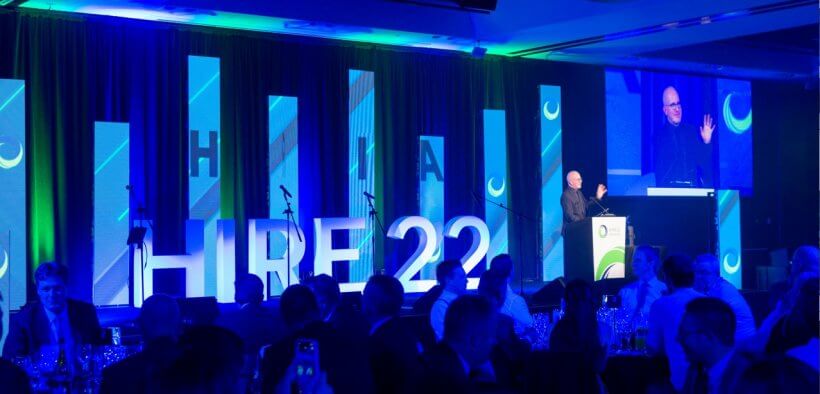 The Hire and Rental Industry Association congratulates all 2022 Hire Industry Excellence Awards winners, announced on May 26 at HIRE22 in Adelaide to a crowd of 400 association members.
The following companies and individuals were recognised for providing significant services and products, or for their notable personal achievements and support given to the hire, rental and access industries:
Hire Company of the Year – Read more: Conplant Pty Ltd
Hire Company of the Year <$10M – Read more: General Equipment Rentals
Supplier of the Year, General Category – 1300TempFence
Supplier of the Year, Access – Haulotte Australia
Supplier of the Year, Service Provider /Software – Point of Rental Software
Supplier of the Year, Events – HTS TENTIQ (Australia)
Best New Product – General Category – Manitou Australia
Best New Product – Access Category – Haulotte Australia
Best New Product – Service Provider/Software – Minetech
Woman of Influence – Read more: Robyne Kerr, Haulotte Australia
Young Professional of The Year – Read more: Michael Larsen, Larsen Aircon Hire
Dave Single Award for Services to the Access Industry – Read more: Tim Nuttall, Access Hire
Conference topics
While the Australian hire industry largely remained resilient during the COVID-19 years, thanks to government infrastructure commitments and temporary financial support measures, some industry suppliers have been adversely affected by notable construction industry liquidations and the potential of more to come.
Recurring topics at this year's conference sessions included the current unprecedented supply chain delays, fuel cost challenges and the national staff shortages threatening the ability to meet the current demand for hire services, particularly for the hard-hit events sector during its 2022 resurgence.
HIRE22 is the annual HRIA member conference combining workshop and expert panel sessions with a major exhibition showcasing the newest machinery, tools, and software to enable hire businesses to meet their clients' needs professionally and efficiently.
About hire in Australia
Australia's hire and rental industry was valued at $8.5 billion by data analyst IbisWorld in their 2019 Industry Report. The majority of the country's hire companies provide rental equipment to the construction industry with the remainder supplying, in descending order, the sectors of infrastructure, home DIY, major events and parties.
Read the 2021 Hire & Rental Industry Sentiment Benchmark summary compiled from HRIA member survey results here. Visit the HRIA news page for the latest industry updates.