Robyne Kerr awarded HRIA Woman of Influence 2022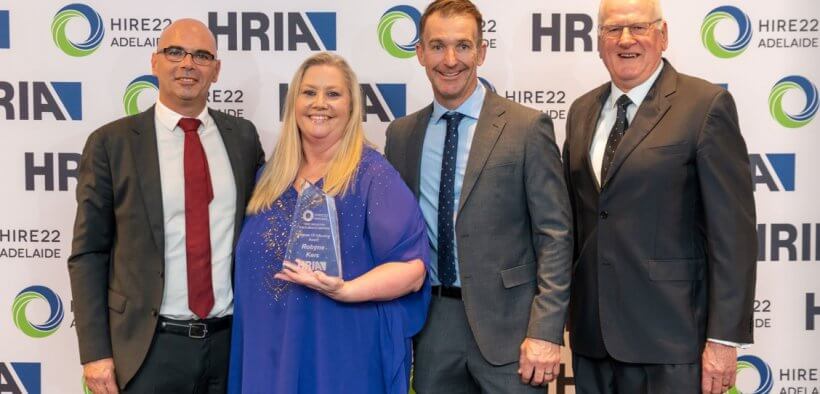 Haulotte Australia's customer operations manager Robyne Kerr has won the HIRE22 award that recognises women for their significant contributions to the hire and access industries.
Robyne accepted her trophy at the HIRE22 Awards Gala Dinner on May 26 in front of an audience of 400 Hire and Rental Industry Association members and industry peers at HIRE22. She expressed thanks to her colleagues, Bernie Kiekebosch, Damian Gautier and Keith Clarke and to fellow HRIA members for their support over many years.
Robyne was one of the three original employees hired by people and material lifting company, Haulotte Australia when the company opened in Australia in 1999.
Starting out as office manager, Robyne is now one of 50 employees. She has company experience in everything from customer service, to product import and export, to business development.
"Robyne was Haulotte's number one employee," said Haulotte Australia's general manager, Keith Clarke. "When Bernie Kiekebosch started Haulotte in 1999 he employed Robyne to manage the office. She was doing everything from ordering stock, invoicing, marketing to managing cash collection and much, much more. In those early days it was Bernie, Robyne and a service tech.
"Today, Robyne has been my rock, with the same support she gave for Bernie. She manages to juggle all the local day-to-day business of liaising with the local customers, to dealing with various factories all over the world."
Keith adds that it's Robyne's exceptional support at Haulotte that enables him to sit on the EWPA State Committee and EWPA board.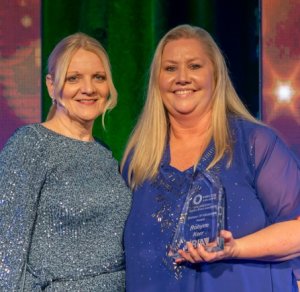 "She has helped to grow many of the additional team members in our business who now are key in our association around the country," said Keith. "Without Robyne's support these gents wouldn't have been able to do what they do. Testament to this is Richard Gannon, EWPA Queensland President, called me while I was writing this to suggest that I nominate Robyne."
For a full list of the Hire Industry Excellence Awards, visit www.hria.com.au
Related stories: Haulotte voted HIRE22 Access Supplier of the Year; Haulotte celebrates 20 years with two award wins; Haulotte enters the low-level access market; Women in Hire & Access continues to grow.
Main image: Robyne Kerr with her award and Haulotte colleagues, L to R: Damien Gautier, Keith Clarke, and Bernie Kiekebosch.
Above: Robyne Kerr accepting her award from Dee DeLaurier, HRIA Executive Officer.