Haulotte enters the low-level access market
Haulotte has stepped into the low-level access market with seven models designed for working below heights of six metres.
Many countries and companies now limit the use of ladders and scaffolding to improve safety and reduce workplace injuries. Haulotte's new portfolio to meet this demand includes vertical masts in their MOVE UP range of push-around models; and scissor lifts in their SWIFT UP self-propelled product line.
"As a promoter of safe and valuable working at height solutions, we have been following the evolution of this segment of the aerial industry for several years," said Remi Heidelberger, Marketing Manager at Haulotte.
The compact and lightweight machines have a small footprint to suit space-restricted locations or sensitive flooring without damaging the working environment. They're ideal for indoor locations such as narrow shopping aisles, data centres, open-plan offices or warehouses. The seven models can be used indoors for maintenance applications, renovations, warehousing or fit-out and finishing work.
Their narrow turning radius allows tight manoeuvres in small spaces and they can easily fit into elevators and pass comfortably through a standard doorway.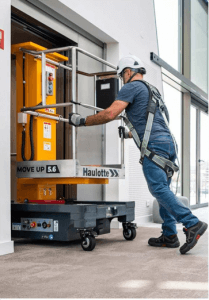 No assembly or disassembly time is required, setting these machines apart from traditional forms of access and enabling jobs to start quickly. The self-propelled models can move while raised, for instant movement to the next task. Dedicated forklift pockets on the machines make them easy to load directly into a van or pick-up truck.
The platforms have intuitive controls, too.
"Our range of low-level access solutions guarantees user-friendly operation, whatever the job to be done," said Eloise Guillet, Marketing Product Manager at Haulotte. "The AGM batteries and easily accessible components ensure minimal maintenance and operating costs."
Visit Haulotte at HIRE22 on stand 5.
Related story: Haulotte celebrates 20 years with two award wins.