Leading data analyst, IbisWorld, estimates Australia's Rental sector to be worth $8.3 Billion in their latest Industry Report.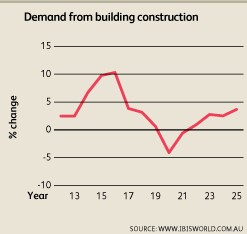 Recent updates in the way IbisWorld compiles its data, now estimates Australia's "dry hire" sector, including equipment and scaffolding, to be worth significantly more than previous valuations.
Ibis reports a decline in market revenue of -2.3% in the last 12 months, siting a major slow-down in apartment construction. Investment in mining infrastructure remains constrained. However, expenditure in Australia's network of the roads, rail and bridges, with major projects like Melbourne's Metro Tunnel and WestConnex in Sydney, continues to trend upwards.
Demand from the residential sector is expected to pick up as investment in high-rise apartment building recovers. Public building is also expected to lift. However, demand from non-residential construction is forecast to decline as some major high-rise office and hotel projects reach completion.
Infrastructure demand continues
Infrastructure sectors are forecast to grow in the coming five years, with large investments in "large-scale rail and air transport infrastructure projects", as well as from recovering recourse and utilities sectors. Road and bridges will continue to outperform long-term trends, with major projects like WestConnex and Badgerys Creek airport in NSW and Melbourne's North East Link also underway this year.
Mining demand continues to rely on extraction rather than infrastructure. However, some uplift in new developments is in evidence, with added growth anticipated for new CSG installations in Queensland and the much anticipated constriction of the Adani Coal mine.
Construction jobs down
SEEK data indicates job vacancies in construction are down -16.5% with falling house prices and slower residential construction activity impacting employment demand in the sector.
Demand is also expected to grown in downstream logistics markets. this includes opportunities for specific materials handling equipment, such as forklifts and telehandlers. Demand from DIY work is also forecast to climb in the renovation and landscaping sectors, which rely on smaller power tools and landscaping equipment.
To keep up to date with Hire and Rental News, sign up to our email newsletters delivered straight to your inbox twice a month. Click here.