Haulotte celebrates 20 years with two award wins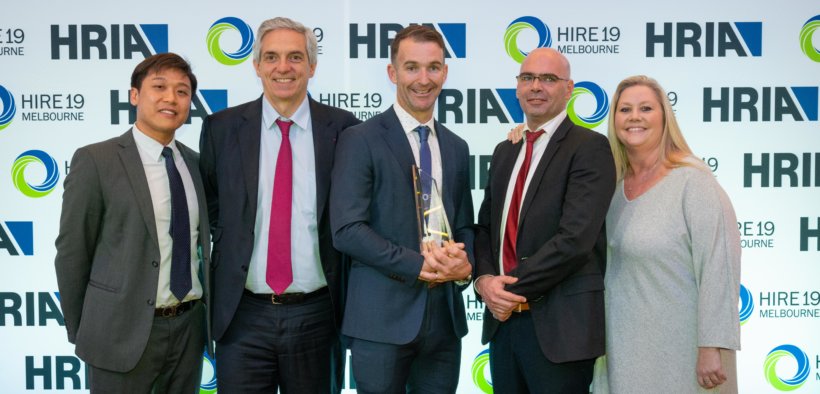 Celebrating 20 years in Australia and promoting its 'Let's Dare' strategic business plan at HIRE19, Haulotte had a lot more to celebrate by the end of the two day Convention after winning two Hire Industry Excellence Awards: Supplier of the Year – Access, and Best Stand.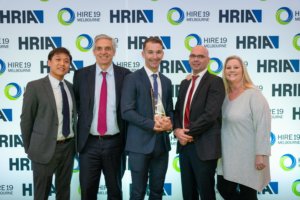 From left to right : Eugene Peh (Product Marketing Manager), Alexandre Saubot (CEO Haulotte Group) , Keith Clarke (General Manager Haulotte Australia), Damien Gautier (Managing Director Haulotte Asia Pacific) and Robyne Kerr (Managing Director Haulotte Asia Pacific)
"These trophies pays tribute to exceptional standards of service and innovation displayed throughout the hire sector," Keith Clarke, General Manager of Haulotte Australia.
"It is such an honour to win Supplier of the Year – Access. We have been working towards this award for several years as we continue to focus, not just on new equipment sales, but also on our service delivery and spare parts availability.
"We pride ourselves on being flexible enough to adapt to our customers' needs, while still being a reliable global supplier with a support network that spreads around the world," Keith said.
It was 20 years ago former Haulotte Australia Managing Director, Bernie Kiekebosch was contacted by the French EWP manufacturer's then CEO, Pierrre Saubot who asked Bernie to develop a business plan for a start-up Haulotte business in Australia. After a few missteps working through a distributor, Pierre encouraged Bernie to establish the Australian division of Haulotte in late 1999.
Bernie recalled the fledgling company had 10 employees including Robyne Kerr who is still with the company 20 years later.
"We had a limited range and with the introduction of the GST, no one was buying equipment so we had a difficult year trying to sell equipment in a market that hadn't seen French access equipment before," Bernie said.
"People had trouble pronouncing the name, so I just told them: 'Think of it as a 'whole lot' of equipment."
Bernie said the team sold 19 machines that first year but it has gone on to prove itself a winning team; one current Managing Director, Keith acknowledges as truly deserving of the company's latest award honours.
As for its innovative stand design, stand out elements included the '20 year' yellow overhead sign, a yellow pergola area and open space in the middle. Equipment featured included the new Star 6 Crawler vertical mast as well as two electric machines: the Optimum 8 scissor lift and the HA20 LE PRO articulating boom. Technical experts were available throughout the event to demonstrate the technical capabilities of the machines and discuss e-services advantages.
"Winning the 'Best Stand' award is the best possible celebration we could have for our 20th year in Australia. We look forward to the next 20 years," Keith said.
Visit: www.haulotte.com.au