Skyjack breaks into North Western China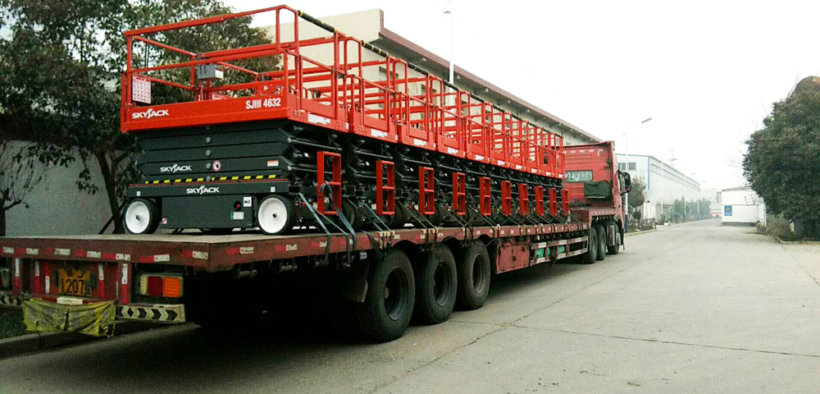 One of North Western China's largest suppliers of road machinery and aerial work equipment has added Skyjack's machines to its equipment line-up with the machines delivered in early April.
Shaanxi Shuntong Equipment Rental has worked on high profile projects throughout the north western Chinese region.
"Skyjack's reputation for reliable machines was brought forward to us from some of our partners and we're excited to place our first order with them," Mr Yang, owner at Shaanxi Shuntong Equipment Rental said.
"A lot of the projects our customers work on are in tight spaces where having equipment that's easily maneuverable is critical to completing the job at hand."
The rental company added Skyjack's SJIII 4632 DC scissor lift, which is driveable at full height and boasts a maximum working height of 38' (11.58m), 450lbs (204kg) capacity, and lifts and lowers in under 60 seconds. The electric scissor lift comes standard with a 4' (1.22m) roll-out extension deck, which brings its overall platform length to 91" (2.31m).
"After meeting with Mr Yang it was clear increased uptime was a key consideration for their fleet, which is a perfect fit for Skyjack's simple and reliable philosophy," Jack Dai, Account Manager of Sales for Skyjack in Greater China said.
"We design our equipment to have all service points easily accessible should our customer, or the end user need it, and use off the shelf parts wherever we can to reduce turnaround time for our customers."
Skyjack has seen a lot of traction within China over the past year, and it dedicates that to their network of customers, external service technicians, and team members.
"Skyjack's straight forward and simplistic approach was exactly what we were looking for," Mr Yang said.
Visit: www.skyjack.com