Snorkel previews lithium-ion powered speed level
Snorkel's first-ever lithium-ion powered aerial lift, the Snorkel SL26E, is a new zero emission Speed Level powered by lithium-ion battery packs which offer performance benefits when compared with the current diesel-powered equivalent, the company said.
With a 17kWh Hyperdrive lithium-ion battery pack with an integrated battery management system (BMS), the Snorkel SL26E will deliver extended duty cycles for longer, continuous operation on the jobsite.
"The use of maintenance-free lithium-ion battery packs reduces running costs by up to 95% when compared to an engine, and are shown to last up to 20 times longer than lead acid batteries," Matthew Elvin, CEO, Snorkel said.
"The low voltage system is easily serviced, without the need for specialist high voltage training, and has been tested in climatic chambers.
"The zero emission, lithium-ion batteries also deliver significantly less jobsite noise. The new SL26E is 60% quieter than the existing Snorkel SL26SL," Matthew said.
Fitted with a 2.5kWh single phase battery charger, the battery packs can be rapid charged to 80% capacity in 20 minutes utilising an off-board charger, and the onboard charger enables a full charge in approximately 6.5 hours, at a significantly lower cost than the diesel equivalent.
The battery packs and battery management systems in the new Snorkel SL26E are developed by Hyperdrive Innovation, a Sunderland, UK-based developer and manufacturer of lithium-ion battery technol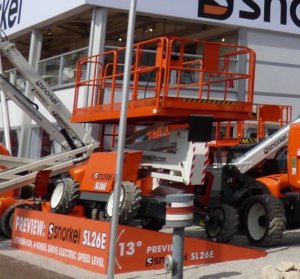 ogy for electric vehicles and energy storage systems working with leading OEM off-road vehicle manufacturers.
Other than the power source, the hydraulic drive Snorkel SL26E shares the same 4-wheel drive performance, 50% gradeability and self-levelling capabilities without stabilisers up to 9° front to rear, and 13° side to side, as the Snorkel SL26SL. With a platform height of 8m (25 ft 6 in), a lift capacity of 680kg (1,500 lbs) and a 1.72m (5 ft 8 in) x 4.6m (15 ft) platform with the 0.91m (3 ft.) roll-out deck extension deployed, the SL26E weighs 3,500kg (7,826 lbs) and, available with non-marking tires, is ideal for indoor and outdoor applications.
"The lithium-ion battery pack system is designed to be scalable, and can be adapted to meet customer requirements and applications, such as tunnel work and long distance driving," Matthew said.
Shown as preview at Bauma 2019, the company gauged customer feedback at the show.
Visit: www.snorkellifts.com