Haulotte named Access Supplier of the Year at HIRE22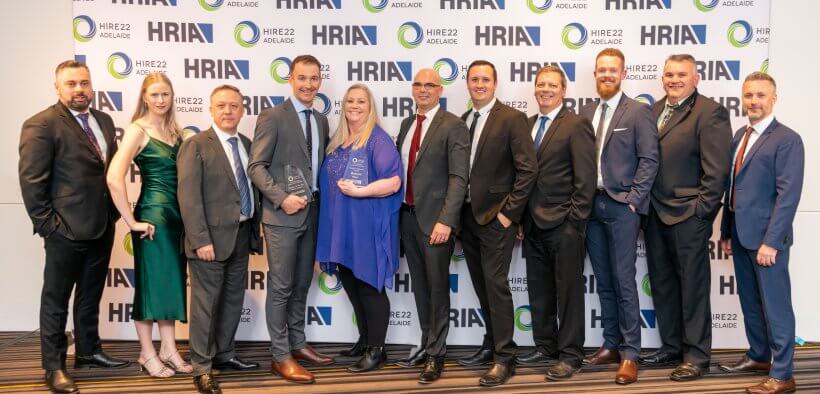 Hire and Rental Industry Association members voted boom lift and access equipment specialist Haulotte Australia as Supplier of the Year in the Access Division of the coveted award.
The win was announced at HIRE22, the annual industry conference of the Hire and Rental Industry Association, in front of an audience of 400 members.
It's Haulotte's third consecutive win in the category, with the company's trophy cabinet already displaying the same award from HIRE19 and HIRE21.
Related stories: Haulotte's Robyne Kerr voted HIRE22 Woman of Influence; Haulotte enters the low-level access market
Haulotte Australia general manager, Keith Clarke (pictured, at right, with Damien Gautier, MD Asia Pacific, Haulotte Group) accepted the honour at the HIRE22 Awards Gala Dinner on May 26 in front of an audience of 400 HRIA members. Keith is Victorian State President of the Elevating Work Platform Association.
"Thank you to the team back at Melbourne and around the country," said Keith. "Thank you to our customers, we couldn't have done it without your support, and we really appreciate everything you do."
Haulotte is a global leader of people and material lifting equipment. They design, manufacture and service access products including elevated work platform machines and telehandlers, as well as offering customised financial solutions and online and centralised spare parts.
The HRIA Supplier of the Year is an award with four categories – Access, General Hire (won by 1300TempFence), Software/Service Provider (won by Point of Rental) and Events (won by HTS TENTIQ). Nominees are selected by HRIA members who then vote for their choice of businesses that have performed exceptionally well in each division.
Australia's hire and rental industry was valued at $8.5 billion by data analyst IbisWorld in their 2019 Industry Report. The majority of the country's hire companies provide rental equipment to the construction industry with the remainder supplying, in descending order, the sectors of infrastructure, home DIY, major events and parties.
Read the 2021 Hire & Rental Industry Sentiment Benchmark summary compiled from HRIA member survey results here. Visit the HRIA news page for the latest industry updates.
For a full list of the Hire Industry Excellence Awards, visit www.hria.com.au
Main image: members of the Haulotte Australia team at the HIRE22 Gala Dinner with their two awards