Point of Rental voted Software Supplier of the Year at HIRE22 Awards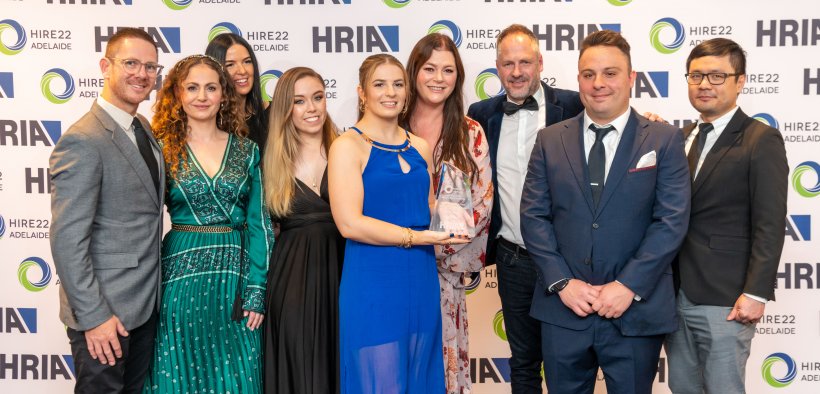 Hire and Rental Industry Association members voted specialist hire solutions company Point of Rental as Supplier of the Year in the Service Provider/Software Division.
The win was announced at HIRE22, the annual industry conference of the Hire and Rental Industry Association, in front of an audience of 400 members.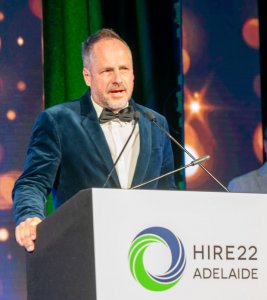 Point of Rental managing director, Dave Cameron (pictured) accepted the trophy at the Awards Gala Dinner on May 26.
"We really pride ourselves on the way we try and innovate, but the people that challenge us the most are our customers," said Dave. "You guys push us to be better every day so thank you for supporting us. We're absolutely delighted to be part of the Association and to keep contributing to the industry."
It's the second HRIA win for the business, with Best New Product General awarded to the software designer at HIRE21.
Automating hire
Point of Rental supplies software that 'reimagines hire'. Their systems automate hire and rental operations to manage and monitor fleet uptime, event planning, equipment telematics, machinery safety and dealership inventory.
The enterprise began after three former NASA engineers who had started a hire company in Texas in 1982, used their expertise to devise time-saving in-house software. Those systems were commercialised and grew to become the network of business solutions offered by Point of Rental today.
Related stories: Point of Rental celebrates 40 years; Point of Rental moves into Canada; Hands-free e-sig offer for pandemic safety.
The HRIA Supplier of the Year is an award with four categories – Software/Service Provider, Events (won by HTS TENTIQ), Access (won by Haulotte Australia) and General Hire (won by 1300TempFence). Nominees are selected by HRIA members who then vote for their choice of businesses that have performed exceptionally well in each division.
Australia's hire and rental industry was valued at $8.5 billion by data analyst IbisWorld in their 2019 Industry Report. The majority of the country's hire companies provide rental equipment to the construction industry with the remainder supplying, in descending order, the sectors of infrastructure, home DIY, major events and parties.
Read the 2021 Hire & Rental Industry Sentiment Benchmark summary compiled from HRIA member survey results here. Visit the HRIA news page for the latest industry updates.
For a full list of the Hire Industry Excellence Awards, visit www.hria.com.au
Main image: The Point of Rental team onstage at HIRE22 with their Supplier of the Year Award.