Michael Larsen awarded HRIA Young Professional of the Year at HIRE22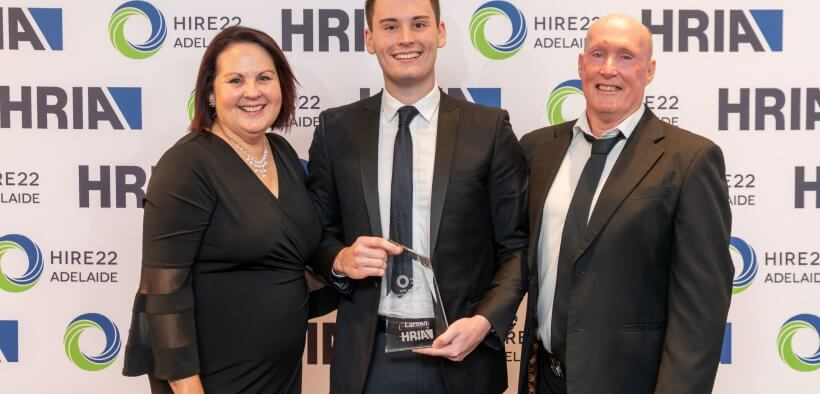 Larsen Aircon technician Michael Larsen has won the HIRE22 award recognising the year's professional under 40 who has made a significant contribution to the hire industry.
Michael has thrived as a mentee in the Hire and Rental Industry Association's Young Professionals Network Leadership Development Program and his nomination reflected his outstanding progress within and outside of that group.
Michael accepted his HRIA Young Professional of the Year trophy at the HIRE22 Awards Gala Dinner on May 26 in front of an audience of 400 Hire and Rental Industry Association members at HIRE22. He is pictured, left, with Katie DeLaurier, HRIA's Member Engagement Manager.
"I firstly want to thank mum and dad for everything they've done for me," said Michael at the Gala Dinner event. "The last 18 months have been such a driving force for me, and I can't thank them enough. I wouldn't be anywhere without them, and definitely not up here tonight.
"I'd like to thank all the other mentees. It's been great getting to know you all and I wish you all luck in your future and in your careers. I'd like to thank my mentor, Mick McGary from Queensland Forklifts. He's been amazing and so great with his time, given how busy we all are. He's so industry-focused and he's made my growth exponential, especially being in a small family business. So, thank you Mick and to all the other mentors."
Michael joined his family's business, Larsen Aircon Hire, after finishing high school in 2020. Realising the benefits of training tailored to the hire and rental industry, he enrolled in the HRIA Apprentice and Trainee Scheme (HATS), which is managed by Strategic Alignment Training.
At the HIRE21 event, Michael spoke about his work in the family business and the HATS program he was completing at the time, in an interview that appears on the HRIA's YouTube channel.
"I've always been around my family's business, always loved it, and my dad gave me the opportunity to join up this year and really solidify what I know," said Michael last year. "It's surprising how big the hire industry is because we're in such a niche market. It's crazy how many options there are in our industry."
Find out more about the HATS program here and read about the scheme's launch here.
The HRIA Young Professionals Network was initiated to support the career development of the future leaders in the hire industry. It provides a voice for the next generation of hire leaders and seeks to develop informed, educated and connected professionals whilst fostering the camaraderie that is unique to the hire industry.
For a full list of the Hire Industry Excellence Awards, visit www.hria.com.au
Main image: Michael (centre) with his parents, Caroline and David Larsen