Tim Nuttall wins Dave Single Award at HIRE22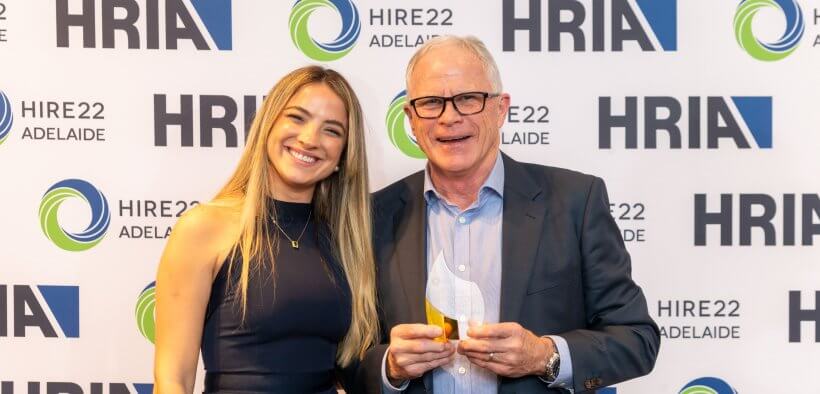 Access Hire managing director, Tim Nuttall has won the award that recognises extraordinary services to the access industry.
Tim has been in his present position at Access Hire for more than 18 years and has been involved in the industry for four decades. He is currently National Vice President of the Elevating Work Platform Association of Australia. The EWPA was formed in 1987 by a group of rental fleet stakeholders concerned that the industry was rapidly growing in response to the construction boom of the time, but without adequate support services, particularly in standards of safety, service and conduct.
Tim has served as EWPA President and Vice President, and among many other hands-on actions undertaken for the Association, he has been a dedicated member of their team lobbying for reform of the Personal Properties Securities Act, to have the law adjusted in favour of hire companies to prevent their loss of assets when construction companies, such as Probuild, go into liquidation.
Tim accepted his trophy at the HIRE22 Awards Gala Dinner on May 26 in front of an audience of 400 Hire and Rental Industry Association and EWPA members and industry peers at HIRE22.
In his acceptance speech, Tim recognised former EWPA President, Bernie Keiekebosch as having been "big shoes to fill" and Dave Single as "an inspiration and sadly missed" within the industry.
"It's an absolute honour to accept an award that's got Dave Single's name on it, and I appreciate all the support I've had along the way," said Tim.
Acknowledging the hard work of fellow lobbyist, Gary Kerr of Kerr's Hire on the efforts to change the law in favour of hire companies, Tim said, "It's been a long journey on PPSA, and we've had some success, and we still have a long way to go to get the result we need for the industry. Gary Kerr's enthusiasm and commitment to those matters has been an inspiration to me."
Related stories: Industry legend Dave Single passes; HRIA action on PPSA; Probuild collapse renews HRIA push for law change.
Safety in Access
EWPA CEO James Oxenham congratulated Tim and noted his valuable efforts in progressing the access sector as a self-regulated industry with specific and regulated safety standards in place to protect machinery operators. James noted Tim Nuttall's presentation of the 100,000th Yellow Card in 2008 and the approaching half-million milestone of trained operators today.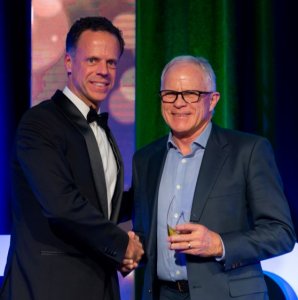 "Actively volunteering to assist the industry on sub-committees, including challenging work with the regulators, unions, Tier Ones and industry stakeholders is how Tim Nuttall continually gives back to industry," said James. "In my time as the Association CEO, I am constantly impressed by his commitment to issues that face our industry and how he makes time to volunteer whenever a topic needs addressing.
"This is also illustrated through the role he plays as a mentor in the Women in Hire and Access program, and I think his past mentees will agree with me when I say you could not wish for a better mentor."
The Dave Single Award was created to honour the late, highly respected, access industry safety consultant Dave Single, who was a past vice president of the Telescopic Handler Association of Australia and author of the key safety publication, 'EWP Incident Investigation Document Australia'.
Main photo: Tim Nuttall being congratulated on his award by his recent HRIA Women in HIre and Access mentee, Larrisa Vianna, from Aggreko 
Above: Tim Nuttall with HRIA/EWPA CEO, James Oxenham at HIRE22 
For a full list of the Hire Industry Excellence Awards, visit www.hria.com.au