Conplant wins Hire Company of the Year at HIRE22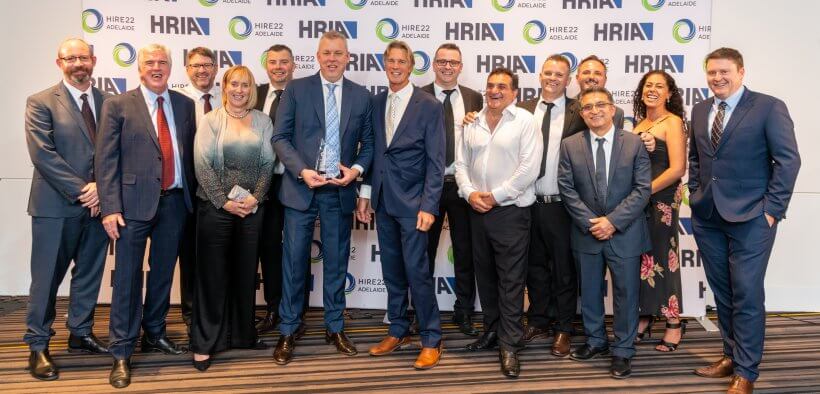 A family-owned hire equipment supplier with a 60-year history has been named Hire Company of the Year in the General Hire $10M-plus turnover category of the Hire and Rental Industry Association's award. Conplant's win was announced at HIRE22, the HRIA's annual convention.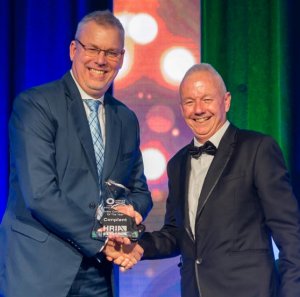 Conplant's managing director, Ian Coleman accepted the award at the HIRE22 Gala Dinner on May 26 in front of an audience of 400 fellow HRIA members. Ian is pictured, at left, receiving the award from HRIA National President Mark Burton.
"The Hire and Rental Industry Association is the official industry association for hire and rental companies in Australia, basically the 'who's who' of our industry," said Ian. "It's a huge honour to be top of the crop, and a credit to the other nominees, who have helped our industry take some great strides forward over the past few years."
"This award is the culmination of 60 years of great customer service and strong culture that's still entrenched in Conplant today. We've always looked to the future, and invested in technology, safety and the environment with innovations like our ROPS2 rollover preventative system, remote and manned rollers, intelligent collision avoidance technology and combining US EPA Tier 4 final equipment into our hire fleet.
"And even though we've been going 60 years, there's no sign of stopping – we're better than ever and looking forward to an exciting 2022."
A family achievement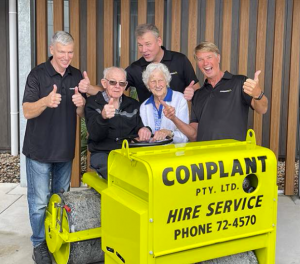 Conplant is Australia's largest privately owned compaction hire specialist and has been operating since 1961. The second-generation family-owned business began as a suburban Sydney company hiring a handful of one-tonne rollers to plumbers and home builders. Conplant now has 10 locations in five states employing more than 100 staff, and a hire fleet of more than a thousand rollers that have been hired for construction jobs from airports to zoos, and almost everything in between.
Conplant was a finalist for Hire Company of the Year, General Division, in 2021.
In the division for up to $10 million turnover of the HIRE22 Hire Company of the Year award, the HRIA Panel selected GE Rentals as the winner.
The prestigious Hire Industry Excellence Awards are a showcase of HRIA member companies that provide outstanding service in all categories of the hire and rental market. The Hire Company of the Year Award recognises business that have consistently exceeded expectations in customer service, safety and performance in two categories – under and over $10M turnover.
Watch our video featuring previous Hire Company of the Year Award winners ​here.
Top image: the Conplant Sydney branch staff; centre: the Coleman family celebrating 60 years in 2021; above: HIRE22 Gala Dinner.