Conplant Turns 60!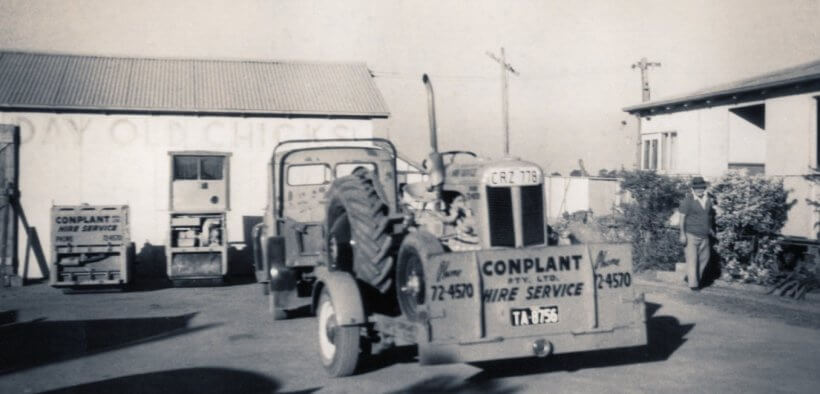 From an old chicken shed, to a national business with more than 1,000 machines, a lot has changed in 60 years. But some things remain the same.
"It's a big milestone and we're really proud of what we've built… and what we're continuing to build. And we're still energetic, enthusiastic and excited with more new technology and hundreds of new machines on the way!
A very big and sincere thank you to all of our customers, suppliers, financiers, contractors, and of course, our employees, both past and present. Without your support, we wouldn't have a business.
Obviously, it's not an ideal time for celebrations, given the COVID situation, with many parts of Australia in lockdown. It's fair to say, that our celebration plans now look a little different… or a lot different, to be accurate." said Managing Director, Ian Coleman.
In between COVID lockdowns, Ian and his brothers managed to surprise Max Coleman (one of Conplant's founders) with one of the company's restored original machines, a Stothert & Pitt 28R roller.
Max, one of Conplant's founders, celebrated his 93rd birthday last week. "Unfortunately, Max is now in an aged care facility with advance dementia, and due to the lockdown restrictions, he celebrated his birthday with residents and aged care staff and without his family. Sad but reality. Others are going through worse, so know that our thoughts are with them."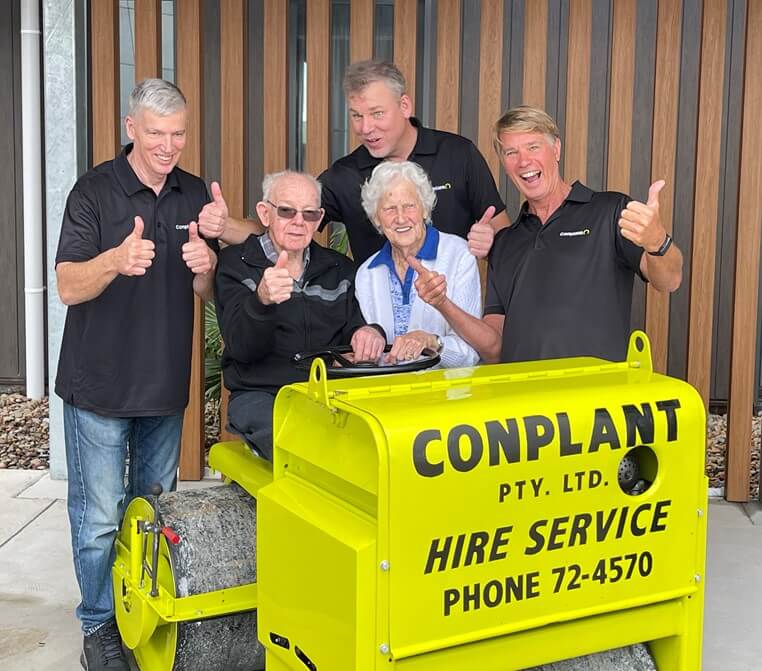 Conplant turned 60 this month while Max turned 93.
"When he walked out and spotted the roller, his response was immediate. He yelled 'Oh my God!', smiled and walked over to the machine. He also recognised his wife Lyla and sons John, myself and Doug (in order left to right in the photo).
"Max's sharp eye for detail was in full swing," said Ian. "he commented several times on the quality of the paint job. It was a great couple of hours and will remain a great and enduring memory.
Some families create memories around the dinner table, at Christmas time, around sport … ours are around rollers!" Ian said laughing.
COVID is affecting everyone in many ways, but we're lucky and thankful that the impact on business has been manageable to date, particularly in comparison to some businesses and sectors that have been absolutely devastated.
From its inception, Conplant grew off the back of exceptional customers service and high-quality plant and equipment. This has been, and remains, part of Conplant's entrenched DNA.
"So, if you need a break from Teams or Zoom… or home schooling, we look forward to sharing some of our stories with you during our 60th year. It's been an interesting journey, so watch this space." said Ian.