The future of hire: keeping your business sustainable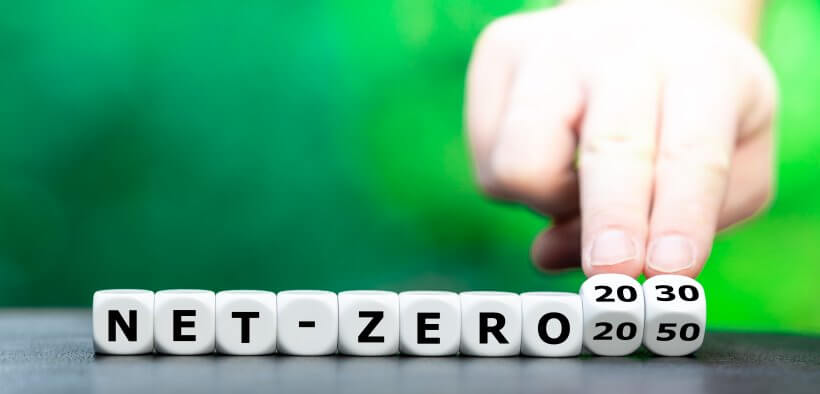 Pressure is increasing for hire businesses of all sizes to adopt sustainable practices.
Action on emission reduction is well underway in global equipment manufacture and overseas business operations. Australia is catching up, and the hire sector has a lot to gain by joining the trend.
Below, three industry leaders describe their companies' emission reduction measures and the options for hire equipment suppliers.
Blue Diamond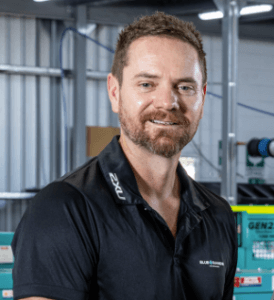 Blue Diamond's core business is supplying mid-to-large sized, rapidly deployable power solutions for construction and mining. The company's chief sustainability commitment is for its Perth head office operation to be 100 percent carbon neutral by the end of 2022.
"Initially, this will be achieved by investing in a 77.5KW solar system and 60 kW of inverters," said Justin Pitts, director (pictured). "That will cover 54 per cent of our expected energy requirements, which are forecast to grow as we add equipment testing capabilities, primarily designed for our Net Zero range."
"We're exploring ways to offset the balance of our energy requirements at our Kewdale hub. It's likely to be through the purchase of excess energy with Large- Scale Energy Certificates."
Next are emission reviews of the Melbourne and Brisbane premises, to create an entirely carbon neutral operation. On the supply side, there's a sense of responsibility for selling equipment that doesn't pollute.
"Given that our core business is power generation, we feel the biggest impact we can have is investing in new technologies to give our customers options that help achieve their sustainability targets in the mining and construction sectors," said Justin.
"We have invested a significant amount in the latest emission reduction technologies from around the world, this will be led by our GEH2 hydrogen generator, powered by a Toyota fuel cell, and including lithium battery energy storage systems and solar."
Expectations of change
Blue Diamond's actions were influenced by global trends and customer demand.
"We based our strategy on what's happening in more progressive countries, such as France, the UK and parts of Asia," said Justin. "The Australian Government is doing a lot in terms of offering grants for projects but there is no incentive or policy here that has so far influenced our strategy. We're driven more by what our customers are asking for and what we see as our role, given our position in the power generation market."
The company demonstrates leadership and commitment through investment. Justin says that while Blue Diamond customers are receptive to alternative power, the net zero solutions need to stack up economically, which is easier with some options than others.
"We are extremely conscious of promoting clean energy solutions, given the reality is our core business will be supported by traditional diesel-powered solutions for some time yet while we transition to new technologies," he said. Investing in net zero Two electrical engineers and a sustainable solutions specialist joined the Blue Diamond team, and over $3M was invested in their Net Zero Equipment range before receiving an order.
"Well over $200,000 has been spent on compliance for the new solutions," said Justin. "And it's taken hundreds of hours to get an understanding of the packaging, applications and customisation options for our unique market."
"All of our solutions are related to hire and our focus is to assist clients to transition to zero emissions. Our offers will be led by our GEH2 hydrogen powered generator. We believe hydrogen will lead the energy transition on larger scale mines and construction, supported by solar and the Built Environment Sustainability Scorecard."
Advice for hire
While sustainability challenges confront hire companies and the sectors they serve, Justin Pitts warns that it will become difficult to ignore the demand for climate-friendly choices.
"A lot of the technology is hugely expensive, and the ROI is far better on traditional diesel-powered solutions," he said. "Blue Diamond is having to accept this to take a leadership position, but I understand why many wouldn't."
"Construction companies face the same obstacles. They want to be 'green', but their margins are tight with no additional budget to reduce emissions. Clean power solutions need to stack up economically."
Justin urges hire companies to take an influencer role in promoting environmental responsibility.
"They need to have more efficient equipment available to offer a choice," he said. "Even if it is at a higher cost, some customers want to pay it to achieve their own targets.
"Change is being driven by tier 1 mining, construction and progressive customers. The risk is that if the government becomes more progressive in forcing change, you will get left behind. Hire businesses should understand the new technologies coming for power solutions. It's not a matter of if, but when, some of the more niche solutions become mainstream."
Aggreko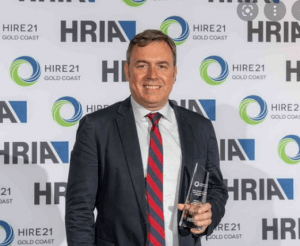 Energy solution expert, Aggreko, has committed to becoming a net zero business by 2050, with three goals set to hit that target. Their plan was developed in alignment with the Paris Agreement's to limit global warming to 1.5 degrees Celsius.
By 2030, fossil fuel used in Aggreko's customer solutions will be down by at least 50 percent through cleaner technologies, halving emissions from diesel, gas and other fuels. Their business operations target for that year is net zero.
Activities undertaken to date include installing large scale solar plants, switching customers from diesel to gas, and using small-scale batteries and solar power.
"We'll do much more between now and 2050," said George Whyte, Managing Director at Aggreko (pictured). "Our energy evolution will be boosted by shifting our global fleet towards greener liquid fuels and gas. And there are many paths to explore, such as the potential of e-fuels, hydrogen-ready engines and fuel cells."
"The energy transition is fundamentally changing the way power is generated and delivered. Our customers' needs are evolving. They require cleaner solutions without compromising reliability, flexibility or cost efficiency. Many are looking for guidance to understand the technologies and costs on offer. Some sectors are more progressive, which is driven by their customers or investors, such as events and mining."
Testing for risk
Aggreko's actions are powered by stakeholder engagement. Field trials have led to innovations supporting company decisions and those of their clients.
"These include the introduction of alternative liquid fuels, gas fuels, re-deployable solar and energy storage systems," said George. "Aggreko's remote monitoring platform has been expanded to support our operations and our clients with more insightful data, helping us to optimise the financial and sustainable benefits. Moving forward, Aggreko will look to introduce technology advancements as they become more economic and mature, these may include alternative fuel sources such as hydrogen."
Leadership from hire
Despite present obstacles, George Whyte places hire in a strong position of influence to drive sustainability measures in the future.
"The hire industry uniquely works across each sector and is a great conduit to the best practices," he said. "Safety is a good example where highly compliant customers and sectors have influenced the standard in the less compliant. I expect the broader sector base will benefit in time from sustainable products and services being introduced to early adopter sectors and help showcase changes.
"We expect governments, industries and consumers to continue their appreciation of sustainability, bringing it to the forefront of their decisions. The risk in delaying may create a bigger challenge to adopt new skills in the business to support the new products or services."
Aggreko's advice for small-to-medium hire businesses is to begin by looking inward.
"Be more self-aware of practices within your business that are sustainability opportunities," said George. "Use data to measure improvements identified for your business or customer base and continue to educate yourself from the experiences of others regarding products or practices.
"I believe the hire industry has great relationships with its supply chain built on loyalty and trust. My advice is that this needs to evolve further to a partnership where the operational and investment risk is shared on some new products. This will help accelerate the introduction of new sustainable products."
Select Plant / Laing O'Rourke
In 2021 Laing O'Rourke launched global sustainability targets, committing to decarbonising operations by 2030 and achieving net zero for scope 3 emissions by 2050.
"The last 12 months was a baseline year for quantifying progress, and it's been incredibly positive to see the business-wide collaborative enthusiasm for identifying areas for improvement and implementing practical solutions to achieve our targets," said Omar Al-Khayat (pictured).
Omar is the Continuous Improvement, Innovation and Sustainability Manager at Select Plant Australia, the business originally formed as an internal plant supply company for Laing O'Rourke. Select is now a one-stop shop for multiple specialist plant requirements.
"The immediate focus has been to abate scope 1 emissions by transitioning our vehicle fleet towards hybrid and full electric products, adopting B5, where available, as the standard fuel on construction sites, and an ambition to expand on our use of biodiesel while exploring alternative fuels, and adopting modular smart power solutions to reduce total fuel consumption," said Omar.
Targets and drivers
Select Plant's targets are aligned with their international jurisdictions and linking emission reduction to finances bonds the company's commitment to the bottom-line.
"In Australia, each state government now has environmentally sustainable targets that are comparable with the UK and EU," said Omar. "Our global sustainability targets were predominantly self-initiated, viewed as both a business need and a moral imperative, and informed by materiality assessments against global sustainability frameworks, construction industry trends and insights and the experience of our leadership teams."
"In the UK, Laing O'Rourke introduced industry-leading emissions reduction targets with its key financial lender, HSBC," said Omar. "The Australian business is looking to do the same. This new funding arrangement incentivises or penalises Laing O'Rourke depending on its progress against key sustainability metrics, such as reducing carbon intensity, diverting waste from landfill, and increasing the number of women in project delivery."
Clients, employees and suppliers are engaged, with feedback sought while exploring emission target milestones.
"We held an interactive supply chain engagement event in December 2021 with over 100 different suppliers and the sentiment towards our sustainability commitments was incredibly positive," said Omar. "During the tender development process, we provide alternative solutions to clients that can be implemented on projects to lift sustainability performance."
The value proposition
Omar sees sustainability as the chance for hire businesses to differentiate on something other than rates.
"Our targets enable suppliers in hire to demonstrate the value added by developing, understanding, and acquiring innovative technologies that tangibly address environmental challenges," he said. "By leveraging and marketing these 'sustainability credentials', progressive hire companies can differentiate themselves and capitalise on the opportunity to become preferred suppliers."
The Laing O'Rourke view is that the hire industry is well-positioned to observe the changes and developments in construction activity over time, with the potential to influence the direction of technology and solutions adopted by the industry.
"As hire is ever present in the construction supply chain, we are well positioned to challenge international plant and equipment OEMs to invest in their Australian operations and bring forward plans to import more sustainable assets in line with European, Asian and American operations," said Omar. "The experience and expertise in the hire industry can also be a driver for domestic development and manufacturing of sustainable technologies through the promotion and distribution of these products."
"It's still early days with most hire businesses focussed on meeting the rapid growth in demand for sustainable solutions from a standing start. To that end, we aren't synchronised yet. There is a real opportunity for the HRIA to bring the industry together to consolidate market power and signal to international OEMs that demand exists in Australia for their products, but also to raise the awareness and build knowledge across hire businesses of any size as to what sustainability means for them and how it can fit into their operations."
Start with fleet
"Know your fleet and implement practices and systems that enable you to be aware of, and promote, your sustainability credentials," is the first of Omar's suggestions for hire companies to adopt if they are low on resources.
"Telematics technology is a relatively cost-effective method to track machine operation, fuel use and idle times. This information can be used to improve asset utilisation efficiency as well as offered back to clients in support of their reporting requirements. There are multiple vendors in Australia who specialise in tracking, monitoring and support services for both on-road and off-road assets."
He adds that exploring the biofuels compatibility of your fleet with OEMs as an option for clients is common among large constructors.
"I'd encourage all businesses to challenge themselves, their supply chain, competitors, and clients to do more," said Omar.
"The biggest risk in delaying action is moral rather than commercial," said Omar. "The intention behind sustainability policy is to mitigate the destructive and international effects of global heating leading to climate change. By acting now, the hire sector can position itself as a leader of positive change that influences policy, rather than waiting on policy to influence a change."
This article originally appeared in Hire & Rental Magazine on pages 6-8 of the May 2022 issue.
What action is your business taking towards meeting Net Zero targets? Contact us at editorial@hria.com.au to share your story with HRIA members.