New release solar lighting tower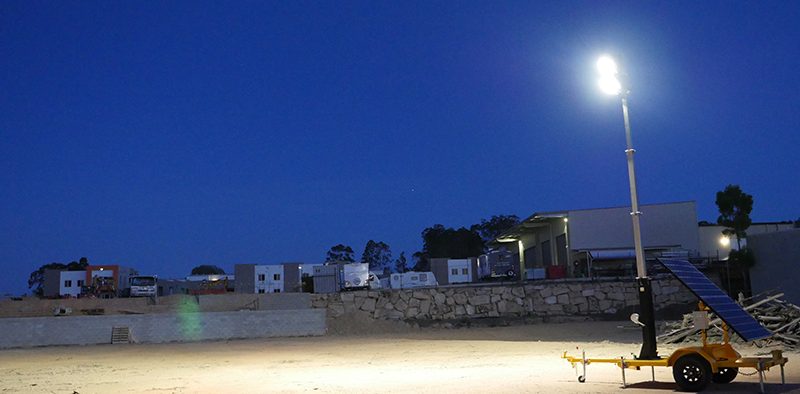 ETC Hire's premium Solar Lighting Tower (SLT) is designed and manufactured in Queensland and offers performance, reliability, safety and cost savings in what the company calls, one elegant unit.
ETC Hire's Hire Manager, Chris Gould said with rising energy costs, solar energy is becoming an increasingly attractive option.
"Over 300 days (average) of sunshine a year guarantees 24/7 product performance, which can be set up to run automatically without the need for manpower. This makes it ideal for clients in remote areas, where construction works may be unattended for days at a time, and power is limited," Chris said.
"Our SLT doesn't just provide superb cost savings, but the added bonus of bright directional LED lighting (up to 30m diameter) and transportability in a simple, easy-to-use design. In addition, the robust powder-coated trailer encompasses a multitude of safety features to minimise theft prevention.
"Features include wheel locking chains, lockable battery box, tamper resistant LED tail lights and a removable draw bar. The mast reaches a height of up to 6m, allowing the light to cast brightly to approximately 30m.
"A simple and cleverly designed product, the SLT is well suited to the needs of clients from a range of trades – traffic, civil, construction, events, sports clubs. It offers a safe and effective means to light up open space areas such as sport clubs, showgrounds and car parks.
ETC Hire has been supplying Australian-made electronic equipment to the traffic, civil construction, retail and events industries in South-East QLD/Northern NSW for 10 years.
"We are excited to share our sleek Solar Lighting Tower with fellow hire companies, for short or long term hires in SE QLD/Nth NSW, or long term hires elsewhere along the east coast.