Global dealer event launches two new products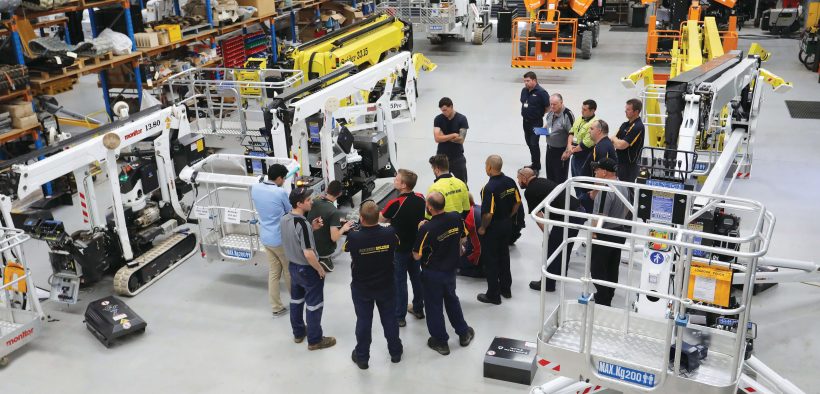 Over three days from 9-11 October at its Tamworth headquarters, Monitor Lifts provided focused, in depth training on the Monitor Lifts range during its first Global Dealer Event – Moni-tour '17.
With over 30 guests in attendance from Europe, NZ, and all regions of Australia, technical training was based around the Platform Basket and ATN products that form part of the Monitor Lifts range, Managing Director, Ben Joyce said.
"This is an example of our 'Dedicated Customer Support' as our slogan suggests, providing our clients with factory trained representatives in all regions of Australia and New Zealand," Ben said.
Two new products, one from each Platform Basket and ATN product brand, were launched as part of the Moni-tour '17 event, including:
Platform Basket 2714 Spider Lift: compact machine with a 27m max working height and bi-energy Kubota diesel engine plus lithium battery system;
ATN Zebra 12: 4WD diesel powered knuckle boom lift, with class leading outreach, on-board diagnostics, oscillating axle and excellent ground clearance.
Guests included Platform Basket (Italy), ATN (France), Access Service Australia (Brisbane / Sydney / Melbourne), Youngman Richardson Co (NZ), EWP Service (Perth), Access Construction Equipment (Adelaide), plus several rental companies and other clients.
Tamworth Mayor, Col Murray attended Monitor Lifts on the last day to welcome the international and interstate guests to the region.
A Jet-Ranger helicopter arrived just prior to the Mayor's visit and conducted flights around the region as a thank you to Monitor Lifts staff, suppliers and guests for their loyalty and support.
Monitor Lifts is celebrating 20 years since introducing the 'Spider Lift' concept EWP into Australia.
"This unique design of cherry picker allows access into extremely tight areas, and by using clever designed outrigger legs, can be safely operated on slopes. Also with hybrid technology, working inside buildings is safe and emission free," Ben said.