Technical and design excellence 'Magni' fied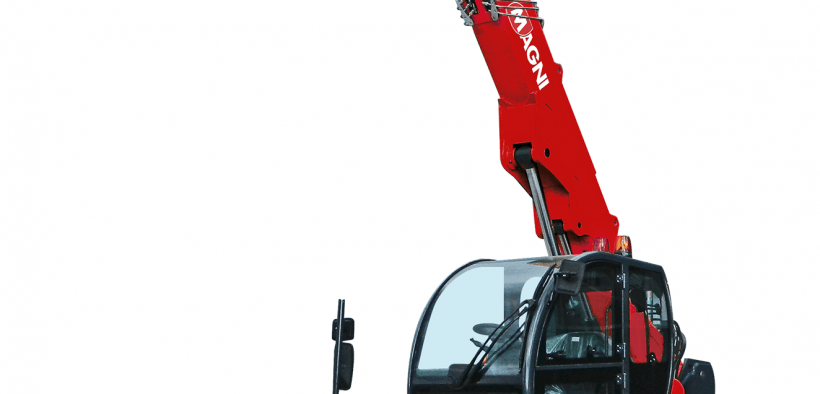 The HTH (Heavy Telescopic Handler) range from Magni which has options in the 10-45 tonne lift sector, also includes the Magni 10.10 or the 'baby' of the HTH family.
Featuring a 10-tonne load capacity, lift height of 10m and a reach of over 5m, it affords a flexible 'working envelope' which the company said can be easily fitted with a range of Magni attachments including winches, platforms, lifting jibs, buckets, fork positioners and side shifts.
"Power comes from a 136HP Deutz Turbo diesel Intercooled engine, generating 500Nm of torque at 1400rpm, tilting rear axle, hydraulic servo-assisted multi-disc brakes and a drawbar pull of 88kN," Anthony Lockwood, National Product Manager for Magni Australia said.
"The Rexroth variable load-sensing hydrostatic transmission delivers full-time four-wheel drive, two speed ranges in both forward and reverse, integrated crab mode and a maximum speed of 40km/hr.
"The unit's electronic safety system is also among the most technically advanced in its class, while setting new benchmarks in driver comfort, strength and safety," Anthony said.
"With a FOPS-ROPS tested hermetic cab, large panoramic windshield offering unrestricted vision of loads (even when suspended), movable steering column plus central heating and air conditioning, the HTH 10.10 – like its bigger brothers – boasts unsurpassed levels of 'standard' equipment.
"A user-friendly intuitive touch screen display (also functional through an automotive style joystick) controls the entire machine and allows the operator to monitor and manoeuver the 10.10 seamlessly within safe operational limits," he said.
"Weighing approximately 13,900kg, the unit has a 4.725mm turn radius, more than 39cm of ground clearance and is just 5.7m nose to tail.
"With growth rates of close to 6% in the telehandler market worldwide, Magni's HTH stable of technically advanced, operator friendly heavy machinery is leading the push in the 10-45 tonne lift sector."