High-rise cleaning easy with 42m Spider Lift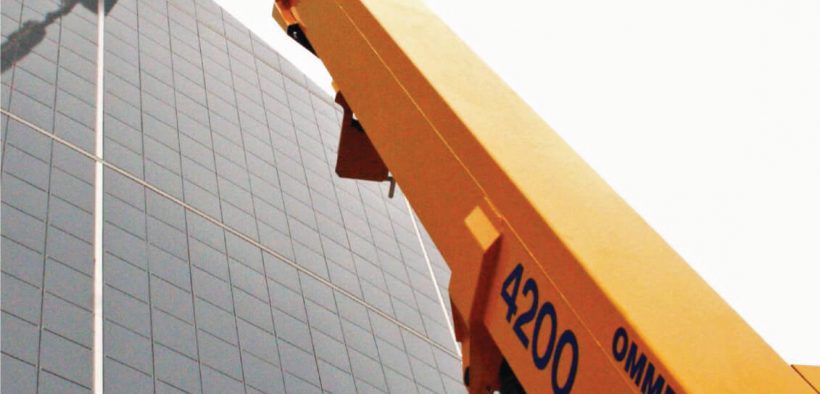 Family-owned UK company Fletcher Access, run by brothers, Simon and Anthony Fletcher, has added a 42m working height Omme Spider Lift 4200 RBDJ to its fleet.
The largest machine Fletcher Access had in its fleet prior to this was a 27m working height. The Omme Lift lightweight hybrid crawler mounted boom was immediately deployed for window cleaning on high-rise tower blocks. It is fitted with a hydraulic hose to basket, to enable safe and efficient pressure washing at height.
Simon Fletcher said: "The hose to basket was vital for us because we carry out a lot of high-level cleaning work on glass, cladding and solar panels. It prevents any snagging of a trailing hose when slewing the machine."
Fletcher Access purchased the Omme Lift 4200 RBDJ from Access Platform Sales (APS), an independent distributor of powered access platforms.
"APS supplied us with a Hinowa tracked boom and our previous Omme Lift. They always provide great after service," Simon said.
"We already run an Omme Lift 2750 in our fleet, so we knew all about the impressive build quality and ease of use. The extremely low weight-to-height ratio of the 4200 was important as our clients prefer machines with a very low ground bearing pressure. The hybrid drive and compact stowed dimensions also mean we can also use it indoors as well as outside."
The true hybrid diesel/battery drive train ensures the Omme Lift 4200 RBDJ is equally suited to outdoor and indoor environments. The 400Ah battery pack, which is automatically recharged whenever the diesel engine is deployed, completely eliminates the well-known 'voltage-drop' issue that can impede the operation of mains-powered machines. The boom can be raised and extended simultaneously, helping to reach the required height in the shortest possible time.
Weighing 6805kg and offering the ability to set up on inclines of up to 27%, the Omme Lift 4200 RBDJ telescopic boom can work comfortably outdoors in many areas unsuitable for conventional big booms, Simon said. Compact dimensions also enable access into confined spaces, with a stowed height of less than 2m and length of 8.9m, plus the basket is easily detachable, delivering an even more compact travel length of 8.3m. The width of 1.75m, which provides stable travelling on slopes, can be hydraulically retracted to only 1.35m for narrow paths, corridors and doorways.