New air-cooled compressor model offers process heat recovery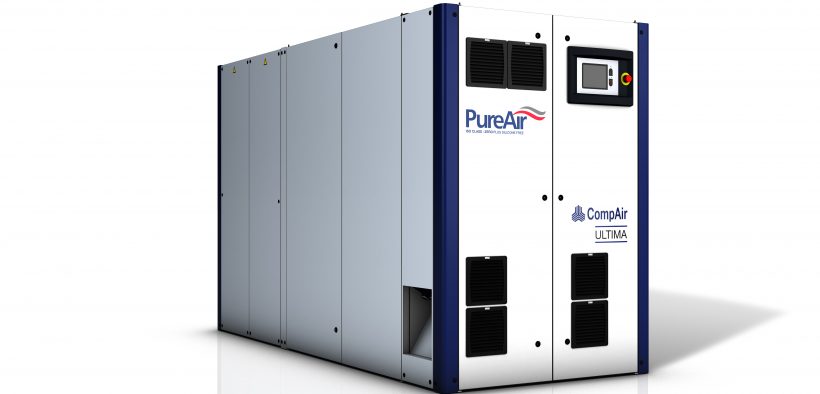 The first air-cooled oil-free compressor to offer heat recovery for process water has been released by Gardner Denver with the air-cooled model capable of recovering up to 98% of heat generated during compression.
The new version of its Ultima technology has a patented closed package cooling system which means the energy captured when compressing air can be used to provide process water heating, delivering usable water temperatures of up to 85°C, according to Dr David Bruchof, Product Manager for Industrial Compressors at Gardner Denver.
"Its hybrid cooling capabilities offer extra flexibility for the user too. Operators can choose between air-cooling, water-cooling or both, depending on the most economic means of cooling at the time. For example, air-cooling might be more cost-effective to use during the winter period, as the heated cooling air can then be re-purposed for space heating in a facility. On the other hand, during summer months, when there is no demand for space heating, a water-cooled operating mode might be more economic," David said.
"Delivering best-in-class performance, the air-cooled Ultima compressor offers cost savings of up to 13% when compared with industry standards, even without the additional application of heat recovery. Thanks to the speed-regulated fans, the power consumption in standard ambient conditions or at partial load is reduced even further.
Features include: oil-free airends with a special coating to help protect the machinery and avoid performance degradation throughout its lifetime; noise levels not exceeding 70dB(A) for the air-cooled model; a requirement of up to 37% less floor space than a conventional two-stage oil-free compressor; and its efficient internal cooling also means adjacent compressors can be sited close to one another.
"Ultima is available with a pressure range from 4 to 10 bar, volume flow from 6.7 to 23.9m3/min at 8 bar, and motor power from 75 to 160kW. The technology is equipped with iConn, Gardner Denver's digital analytics platform, too, helping operators to measure, optimise and improve compressed air usage," David said.
"The Ultima compressor also features two efficient, permanent magnetic motors that replace the traditional gearbox set-up. These variable-speed motors can achieve speeds of up to 22,000RPM and efficiencies greater than IE4.
"Traditional models rely on a gearbox, which creates friction and results in efficiency losses, while also requiring high volumes of oil to lubricate the gears. In contrast, Ultima's motors directly drive the airend without the need for a gearbox, continuously monitoring and adjusting the speed of each airend. This ensures maximum efficiency and pressure ratios at all times," David said.
The Ultima compressors are completely oil and silicone free, and meet ISO 8573-1 Class Zero. The machine is also supported by Gardner Denver's free, six-year PureCare warranty.
Visit: www.compair.com