Compact new mobile lighting tower goes 3 in a ute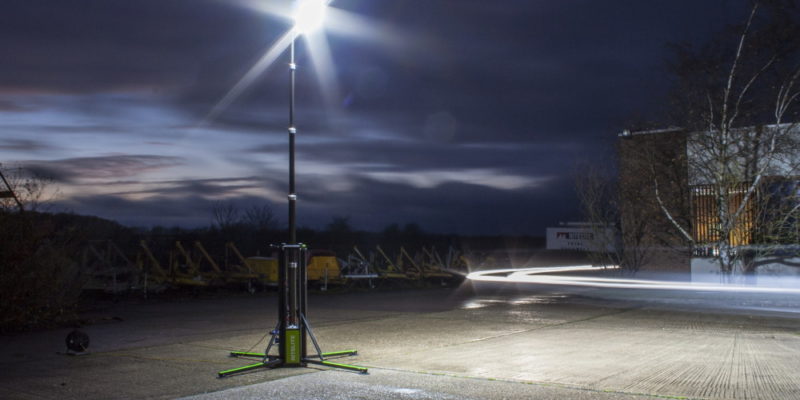 Powerlite has launched its new area lighting solution, the K45 360° LED Mobile Lighting Tower featuring easy push button deployment which takes less than three minutes.
Its compact design makes the unit transportable in an SUV or ute (up to three units) with an illumination performance of over 3500m²at 20 Lux average.
Darren Boughton, Sales Director for Powerlite said the K45 360° LED Mobile Lighting Tower is the first high power mobile lighting tower which can be safely used by anyone, anywhere, for a range of applications.
"Once the push button is pressed the electro-pneumatic mast extends to 4.5m," Darren said.
"The compact design optimises handling while also minimising space claim for storage and transport. Electric safety interlocks prevents raising of the mast until all four stability legs are correctly deployed. The stability safety monitoring system automatically lowers the mast should the unit become unstable, for example due to high winds or heavy rain causing soft ground.
"In rough terrain applications, or where protection of the ground surface is critical, the optional rough terrain/low ground pressure wheel kit allows the K65 lighting towers to be quickly and easily moved into position by one person. Combined with flexible power options, the K45 to be used by anyone and almost in any location," Darren said.
"The flexible light head enables the user to optimally control the light output for a wide range of different tasks ranging from full 360° area lighting to high power directional lighting. This enable extremely flexibly positioning of the lighting towers to illuminate from the centre of a worksite, from the edges or a combination of both. The system enables the light to be directed where you need it most for each individual task and avoid 'wasting light' and energy."
The new tower features High Performance 600w Optimum illumination System with up to 85,000 lumens and an illumination area of up to 3551m² at an average of 20 lux.
"Many applications including indoor construction and outdoor events take place on surfaces which must be protected from damage. Vehicle access may be restricted or prohibited meaning that traditional tower light solutions including road towable towers cannot be used," Darren said.
Powerlite supply portable generators and industrial work light solutions.
Contact: 02 9912 5000 or visit: www.powerlite.com.au