Queensland HRIA raises over $3,000 for Beyond Blue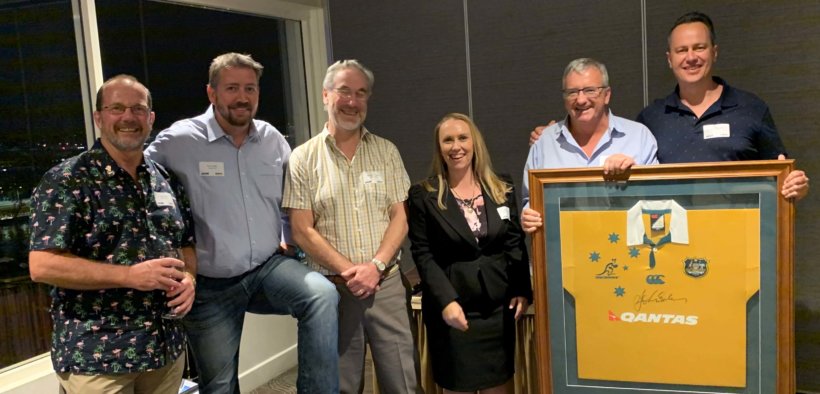 An impressive $3,350 was raised at auction in November, in aid of Beyond Blue, at the Queensland's Hire and Rental Industry Association AGM.
The charity auction, chaired by HRIA's Queensland President Chirstie McCormack, welcomed Beyond Blue's workplace Engagement Manager, Michael O'Hanlon, who spoke about the services offered to individuals and business as well as statistics and insight into mental health well-being.
The AGM took place at Brisbane's Rydges hotel where many of the 60 attendees took the opportunity to speak with Michael one on one.
Twelve auction items had been donated including a John Eales jersey and a pair of boxing gloves worn by former World Welterweight champion, Jeff Horn, which were kindly donated by Centenary Hire, Michael Gordon's personal collection.
The HRIA's chosen charity
QLD has supported Beyond Blue for 2 years and this support has led to the association taking on the cause nationally as its chosen charity.
"Mental health is becoming more recognised within workplaces across our sector, so we're delighted to offer support to Beyond Blue whenever we get the opportunity", said Christie.
Impact of donations

Sends a package of mental health resources via post to anyone in Australia

Funds 1 call to a counsellor via Beyond Blue's 24/7 Support Service

Enables a Beyond Blue Speaker to share their story with the community

Funds 5 online chats with a counsellor via the 24/7 Support Service

Provides weekend support for people in need on the online forums

Trains a Support Coordinator to help people after they have attempted suicide
To find out how to offer support in your state or to donate to Beyond Blue, visit their site at Beyond Blue.