New Fair Work Information Statement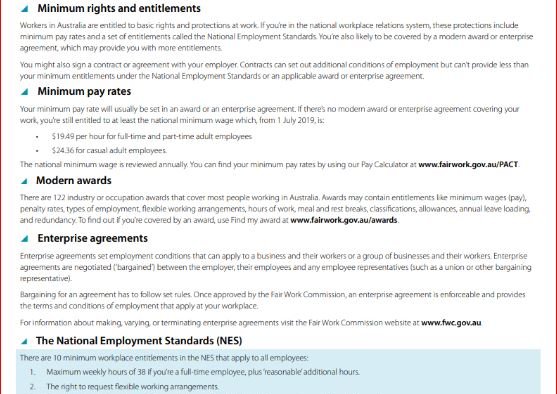 The Fair Work Ombudsman recently updated the Fair Work Information Statement (FWIS).
HRIA members are reminded Australian workplace laws require all employers (save for partnerships and sole traders in Western Australia) to provide all new employees with a copy of the updated FWIS before, or as soon as practicable after they commence employment.
The FWIS can be given to new employees in person, by mail, by email or by fax.
What it covers
The FWIS has information on:
right to request flexible working arrangements;
modern awards;
making agreements under the Fair Work Act;
individual flexibility arrangements;
freedom of association and workplace rights (general protections);
termination of employment;
right of entry; and
the role of the Fair Work Ombudsman and the Fair Work Commission.
A copy of the most recent version of the Fair Work Information Statement can be accessed here.
The HRIA's HRNet – workplace relations support – is provided by MST Lawyers as part of HRIA member benefits. Visit: www.hireandrental.com.au/