Small and manoeuvrable 8m vertical mast lift is a cracker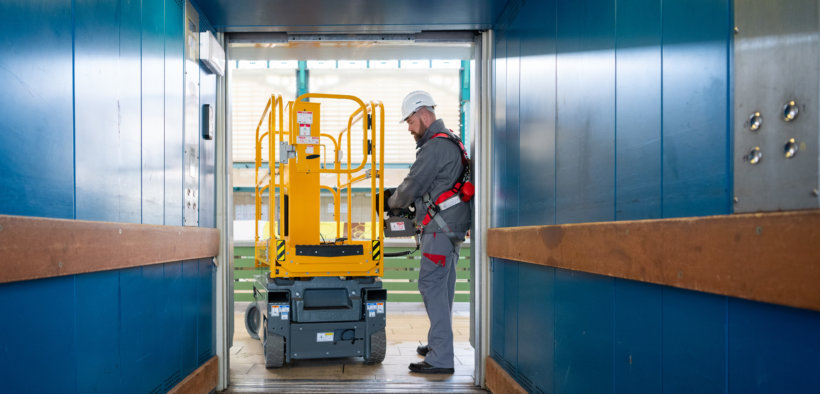 With load capacity up to 200kgs and able to work up to 8m, Haulotte's new vertical mast, the Star 8S is 'one cracker little machine', according to satisfied customer, General Equipment Rentals.
General Equipment Rentals' Sales Manager, Bruce Roberts said demand for smaller width EWPs is booming and growing.
"We get a lot of requests for smaller EWPs capable of operating in real tight areas and the 8m height capability is just perfect for our business," Bruce said.
Launched early this year globally and now available in Australia, the Star 8S vertical mast lift will fit through standard doorways or into freight elevators. It has great manoeuvrability, with a very tight turning radius and zero tail swing, and will drive at full height with deck extended.
Features
A lightweight machine for low floor bearing for use indoor on slab floors, it is the first in its range to offer both lateral and longitudinal fork lifting. Its automatic protection system against potholes means the Star 8S can get over numerous obstacles and cross slopes of 25%.
The Star 8S also includes direct electric drive with maintenance-free AC motors, and can be lifted length wise or width wise during transport.
With its speed of 4.5km/h, the Star 8S has a non-skid step integrated into the machine's design to allow a safe entry in the platform. The basket extension offers additional space and a further reach of 40cm.
Equipped with deep-cycle batteries, Haulotte's Star 8S vertical mast is equipped with the on-board diagnostic tool Haulotte Activ'Screen which provides operators with key information. All pins, nuts and metal parts have been specially treated to ensure optimum resistance to corrosion. The two batteries swing out trays open easily. To optimise downtime costs, a quick-open inspection hatch allows easy access to the hydraulic block. Renowned for their reliability and robustness, asynchronous motors require no regular maintenance. It also features an intuitive control box with battery level indicator in platform
And a 4-stage-cylinder mast: no chain, no cable.
Small manoeuvrable vertical mast
"We got our first hire for the Star 8S and it is for use in a shopping centre. The Star 8S will be perfect for working on kiosks inside the centre, for plumbing, fire safety and similar jobs where you need high manoeuvrability in tight spaces.
"The Star 8S is a small manoeuvrable vertical mast where a 19ft scissor is just too big. We love its' incredibly small footprint."
With other Haulotte machines in their fleet, including the Star 6 and Star 10, the Star 8S rounds out the range for General Equipment Rentals.
"We use each one for different applications and they are very popular," Bruce said.
"We got the two Star 8S machines initially but we can already see demand outstripping us, so we've just ordered another two."
Contact: 1300 207 683 or visit: www.haulotte.com.au