New HRIA website goes live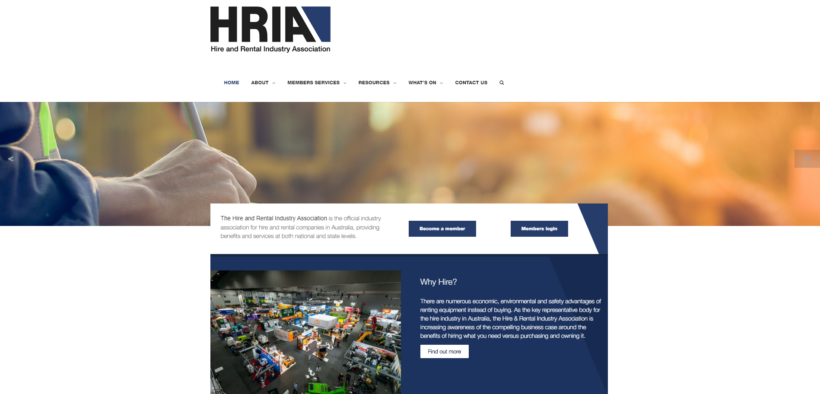 The HRIA's new website is now up and running, offering increased functionality and service capabilities and a big step forward in technological flexibility.
The new website went live Monday 2 March with no hitches and now provides a much better platform for two-way engagement between the HRIA and its members.
It follows the rebranding of the three Associations in 2019, a fresh and modern evolution of the hire industry in Australia.
Key messaging on the home page of the new site focuses on the many benefits of hiring; a fundamental promotional message identifying 'Why hire'? It's a clear review of how customers can benefit when hiring equipment over buying. Check it out – there may be some points you aren't aware of!
The new technology also gives the HRIA greater ability to offer new services into the future and to drive and enhance Association interactions with members online moving forward.
Better communication and engagement
James Oxenham, HRIA CEO said: "We are excited by the options our new website gives us, in terms of providing better communication with our members and our ability to develop new services to better represent our members into the future.
"The new HRIA website offers members improved accessibility to all our member services as well as across the range of information available to all hire related industry and business.
"It now stands side by side with our news portal – www.hireandrentalnews.com.au – and is a brand new resource for members to access."
With the launch of the new website, members will need to update their usernames and passwords, which will be different to their current usernames and passwords.
Members are also asked to check their business listings and to make any updates or changes required.
"Should you require information or assistance please email info@hireandrental.com.au so we can address these enquires as quickly as possible," James said.
"We are excited for this next chapter in the evolution of the HRIA. We appreciate your feedback, so please get in touch and we will be happy to answer any questions you might have plus we would love to hear what you think."
Visit: www.hireandrental.com.au