Kununurra WA wins Kennards Hire Branch of the Year Award 2020
In a case of a regional David beating out the metro Goliaths, Kununurra in north-east WA has won the prestigious Kennards Hire Branch of the Year Award (BOY).
The BOY Award is part of the Kennards Hire QOM (Quality of Management) Awards, an annual event now in its 52nd year.
As contenders for the BOY Award, appropriately named the 'Walter Kennard Group Branch of the Year' award after the company's founder, all branches are internally audited on criteria including hire centre, hire equipment, administration, safety, financials and customer service.
Kununurra Branch Manager Scott Vidler describes beating out 180+ other branches across the country as "awesome".
"It's nice to see a regional location take it out as opposed to the metro ones; that's pretty special," he says. "My 2IC, Daniel Wakeling, and I were bouncing off the walls for a while when we found out!"
Remote
The Kununurra branch opened in 2017 and is one of the most remote branches in the Kennards Hire network located over 1,000km from the nearest WA branch in Broome.
Scott and his team planned hard for the win, having the initial goal of being number one in WA. He says winning the national BOY Award was down to a team effort.
"We had a plan and we worked it, but you must have everyone committed to achieve these things. It's a highly contested award and quite often it comes down to a fraction of a percentage to get the win."
"It was also great that another WA branch took out the big award this year, after our Lift & Shift Belmont Branch secured it in 2019."
The fact that Kennards Hire is a family-owned business run on cooperative values is also a big part of being a BOY Award winner.
"Kennards Hire places value in their frontline staff, it's not about management," Scott says.
"While it's easy for a company to say they do that, Kennards follows through. Just like in a family, everyone's got a voice.
"I honestly could not work for anyone else. From the moment I joined back in 1996 as a Service Person Driver, they gave me the empowerment and the trust to do my best and serve the customers. At Kununurra, we're all about making what needs to happen, happen."
Kennards Hire's CEO, Bill Whitehouse, said: "With 70% of businesses in Australia family-owned, Kennards Hire plays an important role in local economies and communities. The team at Kununurra has a mateship like no other, and that stems from the family-business culture and values of the business."
For further information about the Kennards Hire Branch of the Year Awards, contact Liz Eassie on 0418 673 196 / elizabetheassie@kennards.com.au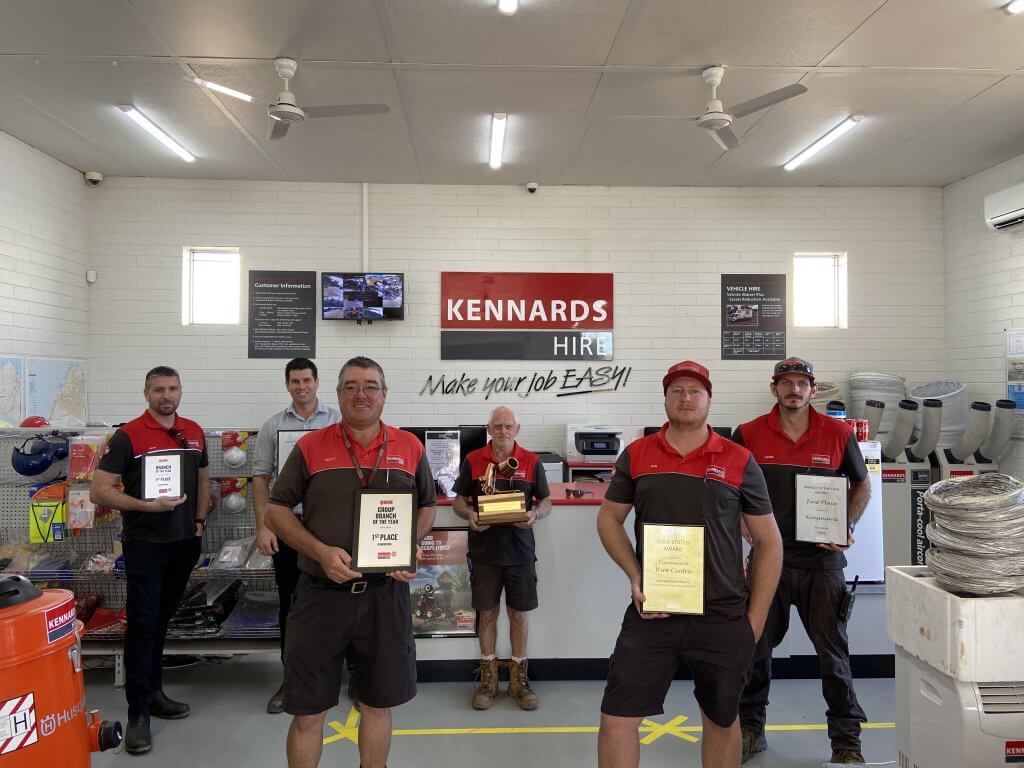 L-R: Front – Scott Vidler (Kununurra Branch Manager), Daniel Wakeling (Assistant Branch Manager)
L-R: Back – Adam Gunn (Area Manager), David Schurman (GM, WA), Paul Cox (Service Person Driver), and Daniel Postans (Service Person Driver). Missing from the Team is Joseph Tagao (Small Engine Mechanic) currently working in our Port Hedland Branch.