HRIA subsidises management course for members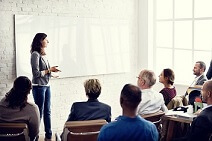 In February, the HRIA will be subsidising a series of workshops focusing on better problem-solving and decision-making.
In partnership with Strategic Alignment training, the workshops will be held in NSW, VIC and QLD throughout February. The workshops have been subsidised to make it cost effective for members.
Workshop Overview:
Problem solving and decision making are important skills for business and life. Problem solving often involves decision making. Decision making comes more naturally to certain personalities than others, this course will help those natural decision makers to focus more on improving the quality of their decisions. People that are less of a natural decision maker are often able to make quality assessments, but may need to be more decisive in acting upon the assessments made. With a focus on using tools and techniques to make quality decisions, in a timely manner, this course will suit both preferences.
The learning outcomes of the workshops include:
Identification of decision making and problem solving techniques and methods
Develop appropriate strategies to apply decision making and problem solving techniques in the workplace
Define problems and bottlenecks accurately
Use different techniques and tools for generating ideas
An understanding of which techniques and tools suit which problems
Putting a plan into action
Workshop Dates and Details
NSW
Date: Monday, 17 February
Time: 10am – 1.30pm
Location: Mounties, Mt Pritchard

Member $60
Non-Member $120
YPN Member $30
VIC
Date: Tuesday, 25 February
Time: 10am – 1.30pm
Location: Coates Hire, Dandenong

Member $60
Non-Member $120
YPN Member $30
QLD
Date: Friday, 28 February
Time: 10am – 1.30pm
Location: Vermeer, Richlands

Member $60
Non-Member $120
YPN Member $30