Haulotte expands Apprentice program
Over the last few years, Haulotte has been growing their team of apprentices and have implemented a formal program to help grow and develop the skills needed in this industry.
Haulotte expert, Brad Kennaugh, has been appointed to guide the apprentices and develop a fully structured training and mentoring program. "I am really enjoying getting around the country and getting in front of all the apprentices and their educators. They have had a few tough years with lockdowns, so it's good to get some face time and start rolling out this program" said Brad. Haulotte ramped up its apprentice intake in 2020 alongside the HRIA Apprenticeship & Traineeship Scheme (HATS). They now have at least one apprentice in each location across Australia. This year they have seen their first apprentice graduate the program and start a full-time role as a service technician. Ben Nicholl joined Haulotte in 2019 based in Dandenong South VIC.
"Ben completed rotations across all departments and showed a real aptitude for diagnosing and repairing faults. He is a perfect fit to our service team in Victoria and is now on the road completing  service jobs", adds Brad. "It has been great going through my apprenticeship with Haulotte, they were really flexible in terms of TAFE and let me focus on areas that interest me. The
team is great and supportive of each other", said Ben.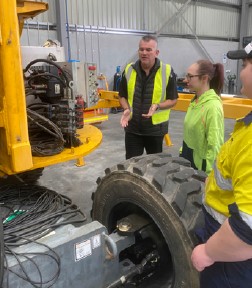 The program includes several rounds including in the workshop with the predelivery team, through to major repairs and overhauls. Apprentices start with things like decal's and painting, then move to pre delivery inspections. After one year they rotate to service where they learn the diagnostics and maintenance of the machines. Finally, they work with experts to complete 10-year refurbishments to completely refresh a machine. Safety is at the core of every role including training on PPE, protocols, through to heavy machinery operation, like crane lift. Every apprentice is
assigned a mentor to guide them. "They get to try everything and grow their skills across all departments, including the important task of cooking a good BBQ", adds Brad.
Haulotte is investing in Apprentices because they see the future growth of this industry and want to ensure there are skilled workers with knowledge of
EWP's.
"It is a unique set of skills that go into servicing an EWP, and we face tough competition from other industries. The Hire Industry is a great place to work and provides great opportunities. That is why we want to get the message out there and help get as many apprentices trained up as possible", adds Brad. The program also features incentives such as interstate travel and training, recognition, as well as rewards and financial incentives. The training offered by
Haulotte goes beyond the TAFE courses as all apprentices have access to the Haulotte Academy which is a globally awarded training platform full of intuitive programs designed to provide detailed expertise on EWP equipment, safety and operations. "When I graduated the program Haulotte presented me with a premium tool kit. They really made me feel part of the team" adds Ben.
Haulotte are currently looking for additional apprentices in Sydney, Melbourne, Perth and Brisbane to start early next year. The company is also looking at international intern proposals across the vast Haulotte global network.