Coates Talent League to take off in 2023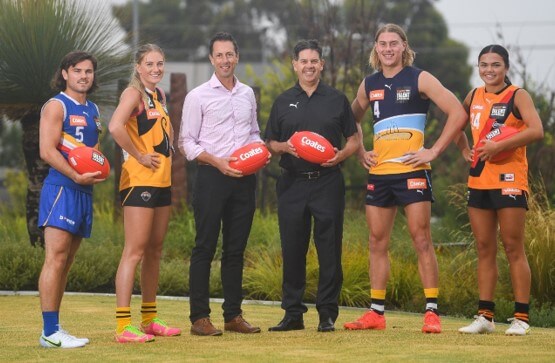 Australia's premier underage football pathway competition for boys and girls in the eastern states has a new naming rights partner and a new name, with Australia's leading equipment hire and solutions provider Coates coming on board to support the Coates Talent League from 2023.
Formerly the NAB League, the Coates Talent League features 12 boys and girls programs from Victoria and one from Tasmania for the full season, while academy programs from New South Wales (GWS GIANTS and Sydney Swans), Queensland (Gold Coast SUNS and Brisbane Lions) and Northern Territory (NT State Academy) will continue to compete for part of the season.
The 2023 Coates Talent League season commences on March 18 for the girls, a later start than this year when the girls season ran from January-April to closely align to NAB AFLW season six, while the boys will start on March 25.
The 2023 Coates Talent League Grand Finals for girls and boys will be played on the same weekend of September 23/24. Full season fixtures will be released soon and will include competition recess periods to allow boys and girls to play community, school and representative football throughout the season.
In 2022, 37 of the 59 players picked in the NAB AFL Draft were selected directly from what is now the Coates Talent League Boys, while of the 83 players selected in the latest NAB AFLW Draft, 41 were directly from Coates Talent League Girls programs, showing how important the competition continues to be in the pathway that produces the future stars of the elite game.
NAB has been a proud partner of the AFL since 2002 and will continue to be a major supporter of the game as premier partner of the NAB AFLW competition and NAB AFL Auskick.
The Coates Talent League started in 1992 as the Victorian State Football League (VSFL) before becoming the TAC Cup from 1993-2018. The girls competition started in 2017. Over the years the competition has produced more AFL and AFLW players than any other league and is also an important development program for emerging coaches, umpires, administrators and support staff.
Coates Talent League teams comprise mostly players from the under 18 age group with a selection of under 19 players also listed. 'Futures' matches, which take place throughout the year between Coates Talent League programs in Victoria, involve under 16 and under 17 players.
In a boost for the regional pathway programs in Victoria and Tasmania, each program now has a dedicated full-time Coates Talent League Girls coach and a dedicated full-time Coates Talent League Boys coach in 2023. The AFL has also invested in increased youth wellbeing programming and resources for all regions, as well as additional administrative, high performance and medical resources.
Additional resources will also benefit community football, with Coates Talent League coaches to work closely with AFL Victoria on providing support for community clubs and coaches. This aims to strengthen the connection between the talent pathways system and local clubs while also providing development opportunities for coaches at community level.