EQSS OverWatch shortlisted for global technology award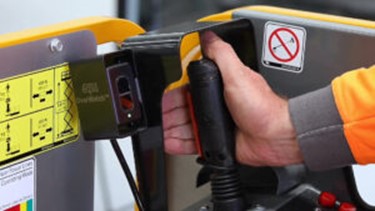 In what is believed to be an Australian first, the International Awards for Powered Access (IAPA) 2022 has nominated the EQSS OverWatch for its Innovative Technology Prize. The winner will be announced on March 10 in London following the IPAF Summit.
The OverWatch is a secondary guarding system for scissor lifts and vertical masts that increases operator protection and reduces the risk of being crushed at the controls. It has been adopted by Australian industry, including major construction companies delivering Australia's big infrastructure projects, and is now available worldwide.
Thousands of elevated work platforms in Australia have had OverWatch installed since 2020 and the technology is now available globally.
"Making the shortlist to this prize is outstanding recognition that the OverWatch is an innovative and effective secondary guarding solution," said EQSS Managing Director, Ross Bowden.
"I am very proud that EQSS and the OverWatch have been shortlisted for the international awards for Powered Access. We had been working on secondary guarding solutions for over five years with a lot of trials and testing. Once we identified the biggest challenge and made that big innovation leap, we pushed hard for two years to develop the Overwatch."
The awards are decided by an independent panel of industry experts including top managers at access manufacturers and rental companies. The event celebrates the achievements of companies who make, rent and train on access equipment by highlighting products that make a positive impact and increase operator safety.
"I'd like to send a big thank you to all our staff, it has been a tremendous team effort to make this happen," said Ross. "And I'd also like to thank our partners, namely the manufacturers, rental companies and contractors who worked with us and gave very valuable contributions to this project."
Read more about the IAPA here: https://www.iapa-summit.info/awards.html