AUSA joins JLG to introduce compact telehandler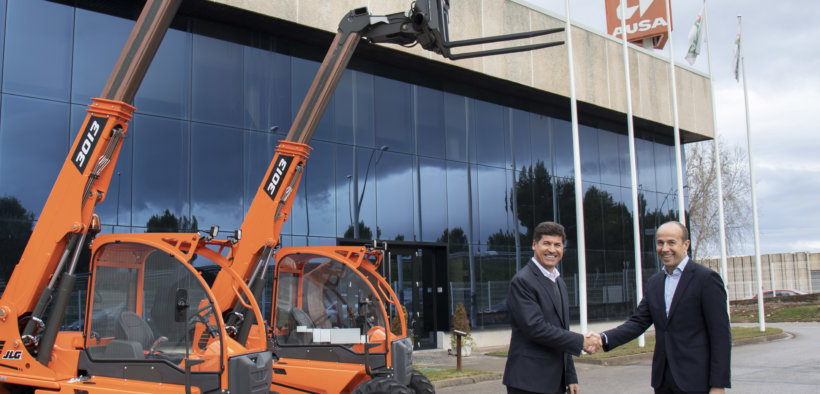 A new 10-year commercial agreement was signed between Manresa (Barcelona) manufacturer, Ausa and JLG to produce an ultra-compact telescopic handler, the SkyTrak 3013.
To be launched during the ARA Show in February, the SkyTrak 3013 telescopic handler is especially designed to handle and transport materials in confined spaces.
The new machine represents a segment JLG has previously not covered.
Features
Weighing around 2,400kg and with a loading capacity of 1,220kg, the new industrial vehicle has a lifting height of 4m and can be transported on a conventional trailer.
The SkyTrak 3013 has four-wheel drive and rear steering, a hydrostatic transmission system and two accessory attachment options. It is powered by a Kubota V-1505 diesel engine with 19kW of power.
The agreement reinforces the international strategy pursued by AUSA, which exports 70% of its sales to 90 countries
In the past five years AUSA has invested 12 million euros, designing new, more efficient and safer models, to achieve significant reduction in CO2 emissions. It has also launched its first electric model.
"JLG is pleased to announce this partnership with AUSA, a manufacturer with over 60 years of experience in designing compact industrial equipment," Rogerio dos Santos, Senior Director of Engineering at JLG said.
"The partnership between AUSA and JLG to manufacture the SkyTrak 3013 represents a commitment by two global leaders in the telescopic handler business to meet a need in the US market," Ramon Carbonell, CEO of AUSA said.
"We are proud of our legacy and the added value we bring to this sector and are pleased to go into partnership with a global leader in the design, manufacture and sale of lift equipment."
Visit: www.ausa.com or www.jlg.com