TMHA welcomes 15 new forklift apprentices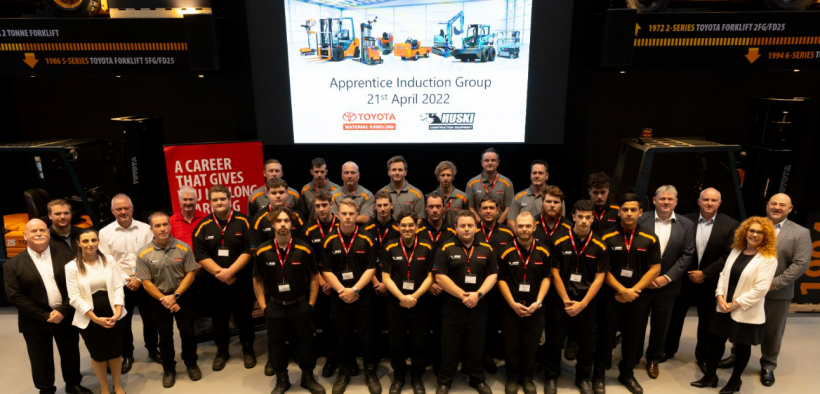 Toyota Material Handling Australia (TMHA) has welcomed one of its biggest groups of forklift technician trainees in its annual apprentice intake.
Fifteen inductees were chosen from a field of 875 applicants. The new employees will work at TMHA branches in Melbourne, Sydney, Brisbane, Adelaide, Perth, Albury, Launceston and Gladstone.
The four-year program has been run by TMHA since 2007. At last month's induction ceremony, the new apprentices were accompanied by mentors from their respective branches and welcomed by senior TMHA executives, including president CEO Steve Takacs.
TMHA national manager Gerry Larney said the annual intake is the ideal way to integrate new talent into the company.
"We use the apprenticeship program to grow our skillset and forklift technician base, it's been really successful for us," he said.
The retention rate for TMHA apprentices is 10 to 15 per cent higher than the national average, partly due to the multiple career growth opportunities for graduates at the company.
"We have staff that started their apprenticeship at Toyota who are still with us 30 years later," said Gerry. "There are almost no barriers to where they can go in the business. If they have the skillsets that add on to their technician qualifications, they can go anywhere."
Apprentices in the Toyota program gain hands-on experience in every aspect of the service business, supported by their formal TAFE education.
Visit the TMHA team at HIRE22 at stand 11.
Related story: Record forklift apprentice intake for TMHA.
The HRIA can share your news with our members on our news page or in our quarterly Hire & Rental News magazine. Please get in touch at editorial@hria.com.au.