Temporary Fencing standard AS4687 is now open for Public Comment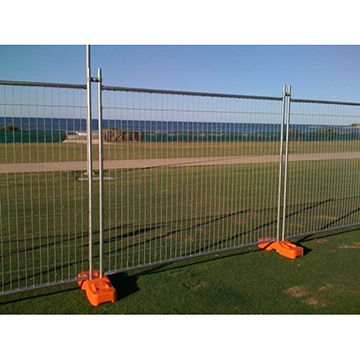 Standards Australia is calling for comments on their Temporary Fencing and Hoardings standard (AS4687) which specifies requirements for the design, installation, testing and storage of temporary fencing and temporary pedestrian barriers, temporary hoarding and temporary pool fencing.
These are collectively referred to as temporary barriers and are intended to limit unauthorised access to restricted areas and prevent exposure of the public to hazards.
Major changes include the division of the previous edition into a series of four parts, additional guidance in determining wind actions, the inclusion of new material regarding temporary pool fencing and where the previous edition was a performance testing standard, this revision provides alternative ways to achieve conformance, adding a design analysis approach.
With regards to members awareness, Christie McCormack, National Manager, TITAN Hoarding Systems, has highlighted the most significant changes members need to be aware of.
"The draft Standard is geared to provide more direction for engineers to establish conformance to the Standard across a variety of installation situations enabling more certainty of requirements especially in higher risk installations," McCormack said.
"The Standard has been split into four sections with a new section covering engineering computations and a new section on temporary pool fencing. This revision is far more comprehensive than the existing standard and will provide members, their clients and engineers clarity.
"There are now two avenues to achieve conformance – design analysis and physical testing. This change will provide members the flexibility to adapt their system to suit their clients' needs while still maintaining conformance to the Standard.
"Minimum wind speed has been kept at 15m/s. This can be found in Note b under Table B.1 in Appendix B of Part 1 of the draft Standard. Members will recall that its representatives on the Standards committee were under pressure to increase the minimum wind speed to at least 25 m/sec."
Other changes McCormack believes members should be aware of include the fact that test methods for temporary fencing have been amended to use a test sample of three panels instead of one panel to simulate normal temporary fencing use more closely. Greater detail has been included around test setup, procedure and reporting.
"Temporary pedestrian barriers, or CCBs are now included within the standard and there are test procedures for strength and stability for this product," McCormack added.
"All companies that supply these products will need to make themselves familiar with the new standard and ensure their products satisfy the standard."
James Oxenham, CEO of HRIA commented that, "the HRIA thanks its volunteer members for the important work they do sitting on standards committees.  I know that many of our members have a supply of temporary fencing, therefore any updates are important so that they are across future requirements and can meet with Australian Standards."
If you wish to find out more or make a comment, please register here:  https://comment.standards.org.au/Account/Login?ReturnUrl=%2FDrafts%2F2182cdf3-f7b6-4ec1-b534-a270ca81b987