Safe Work Australia launches "Be a Safety Champion" initiative
This year National Safe Work Month in October, sees the launch of this year' "Be a Safety Champion" initiative.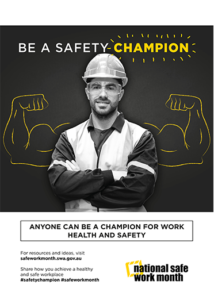 The theme demonstrates that anyone, both employers and workers from any occupation or industry can be a champion for work health and safety.
Supporting documentation helps businesses take part in this year's National Safe Work Month. A campaign of posters is available on Safe Work Australia's website.
In addition to the National Safe Work Month, you can find out what your state is doing for you industry locally:
Queensland
WorkSafe QLD is hosting a range of National Safe Work Month initiatives including:
Tasmania events
WorkSafe Tasmania is holding two main events this year:
Click here to view what other events are being held in Tasmania.
Northern Territory events
NT WorkSafe a running a series of safety seminars including
working in heat on 7 October
free webinars
free small business safety consultations.
Click here to visit their full calendar of events.
New South Wales
Throughout October, Safework NSW focuses on Falls from Height and Exposure to Silica Dust. For more information, visit Safework NSW.
Victoria
Worksafe Victoria have a compregnecive series of events across the state. For a full program of events, from C-suite to tradies, visit the Worksafe website.
Western Australia
WorkSafe WA wants workplaces to focus on safety and think about why safety and health is important. WorkSafe WA is hosting the popular Safety and Health Workshops series throughout October.  These expert led workshops sell-out quickly for good reason, so book early to avoid disappointment.
South Australia
SafeWork SA are encouraging workplaces to demonstrate commitment to health and safety, and will showcase exemplar businesses that have invested in work health and safety for their organisation and employees. A number of organisations are holding public events so businesses can get involved and be a safety champion! To find out how, visit the SafeWork SA website.