Red Alerts a powerful reminder of the need to be vigilant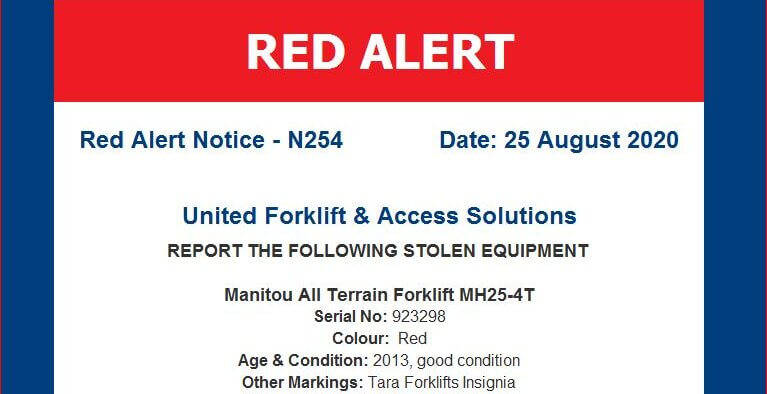 Since 2002, the HRIA has been running the Red Alerts theft advisory scheme for members, which alerts members to equipment that has not been returned. The alert includes details of the person or people who hired and then did not return the equipment.
It's a national alert scheme that provides details of equipment theft on a state-by-state basis. For example, all NSW members are notified of equipment reported not returned within NSW. All Victorians are likewise advised of all and any equipment not returned within the state of Victoria and so on.
The HRIA maintains a central database of Red Alerts to assist in keeping the wider hire community informed of the names and details of people not returning equipment and the types of equipment not returned, along with the locations of the rental companies affected.
A powerful reminder
Former Vice President of the HRIA, Allen Besseling of Hire Express said the Red Alerts scheme is a powerful reminder of the need to be vigilant and diligent when hire theft comes up.
"The value of the red alert program is sharing the details of those people doing the (theft) rounds and not returning equipment so members are aware of when, where, how and who has not been returning equipment," Allen said.
"Even if the person not returning equipment is not in my area, the Red Alert emails coming through are a reminder for me to be diligent around equipment theft.
"I would like to see more Red Alerts being shared and more members participating in this program. It's a great scheme which brings a wealth of information right to the hire counter and is always a crucial reminder to be on guard against theft during hire."
To access the Red Alerts scheme and advise the HRIA of equipment not returned, members can access and complete a form on the HRIA website. The HRIA then sends out an email to all members in the relevant state.
Visit: www.hireandrental.com.au