Master Hire turns 30!
Master Hire is celebrating 30 years of business based on the original tenet of owners Stuart and Peter Shaw: 'Always give the customer a reason to choose us and then give them a reason to come back!'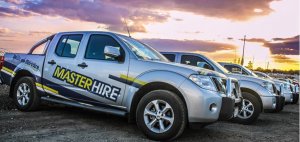 Built on a desire to own his own hire company after traveling the country and visiting lots of hire yards, Stuart and Jenny Shaw opened the first Master Hire branch in Toowoomba, Queensland on 1 September 1990 with a focus on building and the DIY market. Stuart's brother, Peter joined as an equal partner in the business some three years later and continued the growth of the business with the opening of Master Hire's second branch in Dalby, Queensland.
The early years meant all hands on deck for the families with both brothers jointly managing operations and sales which included all aspects of customer service, answering phones, deliveries and the servicing of equipment. Stuart's wife Jenny and Peter's wife Helen both worked in accounts and did the end of month billing, payroll, filing, general bookkeeping and helped with answering phones.
Nowadays, Master Hire has expanded into larger equipment such as large boom lifts, padfoot rollers, water pumps and traffic management equipment. Opening new branches every few years also meant the need for larger quantities of equipment and depending on the area, different equipment to suit the local industries. Master Hire has also been proactive with new technologies and has purchased brand new and innovative equipment.
While COVID-19 continues to limit public celebrations, Master Hire celebrations will be restricted to internal celebrations on the day with branch teams and a range of customer giveaways and special gifts for team members. To read more about the Master Hire story, visit their website: www.masterhire.com.au 
Congratulations on an amazing milestone Master Hire.