Poster campaigns targets safety and wellbeing
Specific messaging posters promoting safety and well-being programs have been posted on more than 600 job sites across Australia each month for the past year.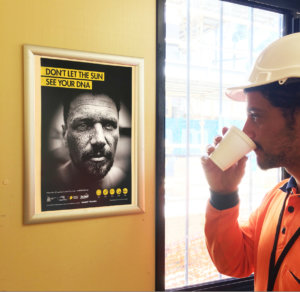 The combined value of these poster placements from Target Tradies, an Australian company focused on delivering specific messaging to tradies on the job, has exceeded $1 million dollars after the first 12 months.
The Cancer Council and Black Dog Institute poster campaigns reached tradies at their worksites to share messages around sun exposure and depression and other mental health issues.
According to the poster messages, The Cancer Council said tradies receive 5 to 10 times more UV than indoor workers, and Black Dog Institute said construction workers who have a higher risk of experiencing mental health problems, compared with other types of work.
"We are truly grateful for the support Target Tradies has provided us. During the past 12 months we have been able to reach tradies directly with messaging around UV protection, promoting a healthy diet, as well workplace issues like diesel fumes and dust. This unique and uncomplicated method delivers messages directly to our 'target' audience, while they are on the job," Sanchia Aranda, CEO, Cancer Council Australia said.
Fiona Treweeke, Head of Marketing at Black Dog Institute shared a similar sentiment of appreciation for the support from Target Tradies.
"As a medical research institute, one of our major goals is to reach the 60% of people that do not seek help for depression, anxiety and suicide risk. Target Tradies gives us an opportunity to work towards this by driving awareness and support in the construction industry where the stigma attached to mental health thrives. We've developed specific materials to address this and educate workers to recognise the signs when help is needed and where to get it. It's a unique and highly targeted channel for us."
Target Tradies Founder and Director Michael Blumberg is delighted at the success of both campaigns, and credits Ausco Modular, the world's leading business services company specialising in modular space, with enabling the company to deliver safety messaging to tradies onsite.
"Ausco Modular clearly has a long-term commitment to the safety and well-being of all workers on construction sites across Australia. They have enabled us to place workplace safety messaging in their modular buildings, which include lunchrooms, washrooms, site offices and places where tradies check in and check out, or enjoy break time. It is here where the messages can be absorbed and processed. Ausco Modular deserves the accolades for their ongoing support which has enabled our CSR programs," Michael said.
"As the issue of safety on sites continues to become more mainstream, the work Target Tradies does, uniquely, through our site visitation model, offers construction companies further ways of engaging and communicating with their workers, beyond their internal programs," he said.
Michael said regular updates to posters and messaging is key to keeping their efficacy high. Target Tradies' fully certified installers spend no more than 15 minutes on-site and are highly familiar with construction site environments to minimise disruptions to ongoing operations.
"Our media is uniquely placed within construction sites, specifically in dwell spaces. Here, tradies have the opportunity to read messages and hopefully act on them," he said.
"Our commercial model allows us to drive our CSR program. We have support from government, institutions and education as well a commercial brands, who use our unique delivery system to get their messages in front of the tradies."
Contact: 0414 339 900 or visit: www.targettradies.com.au