Kerry Stokes bows out as supply chain pinch curbs WesTrac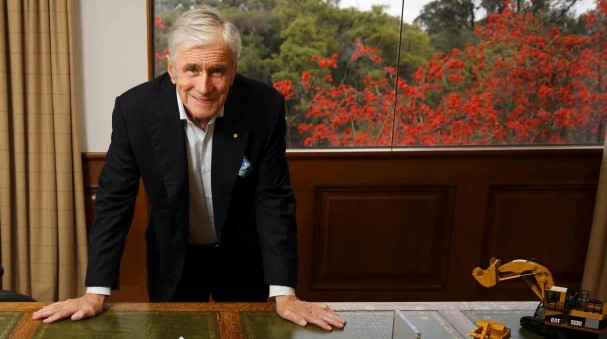 Supply chain disruptions and industrial disputes at Australian ports are starting to cause delays for the WesTrac heavy machinery business owned by Seven Group Holdings that distributes Caterpillar trucks and equipment to mining and infrastructure companies.
Seven Group Holdings chief executive Ryan Stokes said on Wednesday that while demand is still strong in the mining and infrastructure sectors in the first few months of 2021-22, the impact of supply chain disruptions causing problems for many industries is now felt at WestTrac.
"We have seen some supply chain pressures, including port disputes, shipping delays, and CAT (Caterpillar) machine and parts supply constraints," he said.
WesTrac is expected to have increased its earnings before interest and tax in the low single-digits range, while stablemate Coates Hire is set to deliver better growth, with EBIT expected to increase by the high single digits.
WesTrac and Coates Hire are the two main fully owned businesses operated by Seven Group Holdings, where Rich Lister Kerry Stokes ended his stint as chairman on Wednesday after the annual meeting.
Mr Stokes will keep working in an advisory capacity with the board and company for at least the next three years, for an annual fee of $475,000. The new chairman of Seven Group Holdings is Terry Davis.
$2.1b to return to Seven Group Holdings
Seven Group Holdings also owns almost 70 per cent of Boral, 30 per cent of oil and gas group Beach Energy, and 40 per cent of television and publishing group Seven West Media.
Kerry Stokes told the meeting that Seven Group Holdings intended to use its share of the expected $3 billion in capital that Boral is set to return to shareholders, to pay down debt.
This is likely to result in as much as $2.1 billion returning to Seven Group Holdings. Kerry Stokes also said Boral's US fly ash business, which is in the final stages of a sale process, was performing better as demand increased, and delivering profits of about $140 million.
Kerry Stokes also answered a question from a shareholder about climate change and said reducing carbon emissions would be key for the country's future.
"It's going to be important for our standard of living," he said, adding that Seven Group Holdings was pushing hard to reduce emissions.
Net zero carbon commitment
"The company and the directors treat global warming very seriously," Mr Stokes said.
He said WesTrac and Coates Hire had both committed to having net zero carbon emissions by 2040, and were working toward a 30 per cent reduction of emissions by 2026.
WesTrac is the sole authorised Caterpillar dealer for Western Australia, NSW and the Australian Capital Territory and employs about 3500 staff.
Kerry Stokes told the meeting he had purchased Wigmores in 1988, and that was now known as WestTrac. At the time of the acquisition its main asset was a partnership with Caterpillar of the United States.
Ryan Stokes told the annual meeting that the Coates Hire business had performed in line with budgets in the September quarter of the new financial year, with Western Australia and Queensland performing the best. The NSW and Victorian operations had suffered because of lockdowns, but were now showing signs of a recovery, he said.
This story originally appeared on The AFR