Kaeser: dependable, efficient and available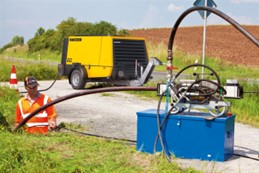 Well-designed site equipment ensures smooth and cost-effective building processes and provides maximum protection for personnel, materials and the environment. This is equally true when it comes to the use of compressed air.
Manufactured at Kaeser's headquarters in Coburg, Northern Bavaria, Mobilair units are available in a wealth of sizes and are equipped with petrol, diesel or electric motors. With flow rates of 0.85 to 45.8 cubic metres per minute, and pressures of 7 to 15 bar, there is a compressor to suit all applications.
Most models can be specified as road-going, skid or stationary versions and the smaller models are available with either rotational moulded polyethylene or metal enclosures. MOBILAIR compressors can also be configured for hot climates and high humidity, as well as for varying air treatment requirements such as cooling, warming and filtration.
Certain Kaeser compressors are available with 6.5 kVA generators to provide auxiliary power without needing an additional machine on site. Optional features such as a closed floor pan allow the compressors to be used in environmentally sensitive zones, while a spark arrestor means it is suitable for use in refineries. The engine shut-off valve automatically shuts the machine down upon intake of combustible gases.
Even the smallest MOBILAIR compressors are more than capable of powering pneumatic spades, breakers, drills, saws, screwdrivers, grinders, impact moles and sewer robots. The 15 bar version is ideal for trenchless laying of fibre optic cables or for leakage tests.
Compressors from the MOBILAIR e-power series truly come into their own wherever an electrical power connection is available. Their whisper-quiet electric drive makes them the perfect choice for use in low emission and noise protection zones such as tunnels, excavation pits and city-centre sites as well as indoor operations.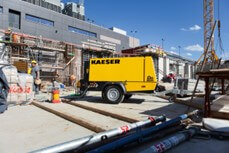 At the heart of every MOBILAIR system lies an energy-saving SIGMA PROFILE rotary screw airend. Premium design, meticulous manufacturing and precision-aligned anti-friction bearings guarantee long service life and exceptional efficiency.
Located in the middle of Kaeser's MOBILAIR range are the economical, diesel-powered M 122 and M 123 units.
The M 122 features mechanical engine management and a traditional control panel, whilst the M 123 benefits from a more powerful electronic engine management and the advanced SIGMA CONTROL SMART compressor controller. Using state-of-the-art electronic engine management, this advanced compressor controller ensures optimised compressed air availability, fuel efficiency and exhaust air management. Functions include an operating mode display, intuitive user interface and system diagnostics.
Features also include automatic monitoring and shutdown in the event of a fault. The ability to switch over manually from idle to full load operation ensures a reliable, gentle start when operating the machine in cold conditions. Standard units are rated for ambient temperatures between -10 and +50° C.
When full, large capacity, transparent the tank carries sufficient fuel for an entire work shift without the need for refuelling. For added ease of operation, an automatic shutdown feature is activated when the fuel level becomes too low. An aftercooler and a centrifugal separator ensure cool, condensate-free compressed air.
Available for immediate delivery within Australia, the 8.6bar M 122 and 8.6 or 10bar M 123 MOBILAIR compressors come with a braked trailer and height-adjustable chassis. Convenient to move onto and around site, the user-friendly design of the M 122 and M 123 not only ensures simple operation and outstanding manoeuvrability — their large enclosure doors also provide excellent component accessibility for unrivalled ease of service.
In recent years, many industries have suffered supply issues and prolonged freight delays and this has almost become a 'new normal.' However, in a refreshing change of events there are M 122 and M 123 units available now ex-Melbourne, enquire to receive more information at au.kaeser.com or call 1800 640 611 while stock remains.
TO find out more, visit https://au.kaeser.com/