Growing into a blooming successful hire business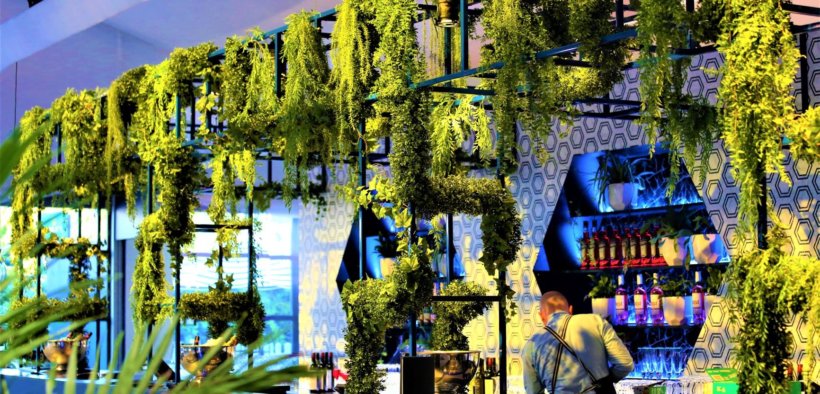 When Gary Pask saw a lack of a competitive greenery market and quality greenery stock in the events industry back in 2012, they founded Event Plants which has now grown so much in the past seven years, it recently expanded to new premises.
The new location offers substantially more space and is in a more convenient location to access all major freeways; a major factor for the business since transport is its second biggest strength.
"Due to our rapid business growth in the past couple of years we quickly outgrew our previous base at Eltham and found the perfect location for us at Sandown Racecourse owned by Melbourne Racing Club. This location previously had its own greenery division so the bare bones were already in place allowing us to add on and develop the site into a fully functioning greenery compound," Vicki Williames at Event Plants, said.
An innovative greenery supply company developed to make any event or display stand out, Event Plants provides everything from a single plant to an entire temporary landscape scene creating a visually appealing design bringing greenery and life in any space, Vicki said.
With custom builds its speciality, Event Plants covers large events such as the Australian Open and Caulfield Spring Racing Carnival to corporate clients using greenery to add colour and life to product launches and openings, Vicki said.
"We have a reputation second to none in the events industry that can be verified via long term, solid years working with Tennis Australia (Australian Open), City of Melbourne, Melbourne Racing Club, Cricket Australia, F1 Launch, Good Food & Wine Show, Moonee Valley Racecourse, Oakland Horse Sales, Cotton On Group, AIME plus several modern boutique festivals, exhibitions, corporate events, weddings and everything in between.
"We pride ourselves on delivering to budget and installing to timelines. Custom builds are our specialty and we pride ourselves on delivering the best quality of plants and an even higher level of customer services.
"Each job is unique in that location, duration, quantity and style will vary depending on the event. We have large events where our stock is generally on site for up to a month providing challenges in watering schedules and weather conditions. Or sometimes we have corporate clients using our greenery that will only have stock on hire for two hours.
"We love the versatility of working with and offering live plants to our clients and the public. They not only provide colour but can be used to create dimension, movement, height perception, cordon off unused or back of house areas and screen lifeless corners.
"In our custom built compound we hold numerous plants on site as well as offer access to the best suppliers in Australia for any out of the ordinary requests. It is a very rare occasion we cannot source what a client needs. We also have a wide variety of quality and unique products including fencing, decking, flooring, planter boxes and pots. Custom builds and theming are our specialty and we love to create one-off designs.
"We are always scanning worldwide for new stock. We have a number of displays located at our compound for clients to view and we keep our catalogue updated so it can go out immediately to existing and prospective clients. We also have a newsletter to showcase recent activations and new products."
It's all about the team
"We have a permanent dedicated team and transport options to cater for any hire period.
"Our team is definitely our most important asset. We have requests to deliver at all times of the day and night, designing show stopping displays plus watering and maintenance through the hotter summer months during those long term hires which our team continuously delivers on.
"Our second biggest asset would be our access to the best plant and tree suppliers in Australia. We regularly visit with our suppliers to inspect quality and presentation and have developed great working relationships with them over the past few years. It is so important we work well together and they understand we will not settle for anything less than the best stock available. Through this development our suppliers are aware of the tight timelines we deal with and are always more than willing to work with us to help us deliver.
Transport ties equally as our second biggest strength. Having the right logistical method is so important. We have a number of different vehicles in our fleet and rely on each of them for different jobs," Vicki said.
What's new and what's next?
While working with greenery is rewarding and interesting, Vicki said the business is very much aware the events industry is also very seasonal, so the business is evolving to incorporate a number of non-event related clients from a range of industries to provide steady work throughout the whole year.
"Plant and greenery hire continues to grow within the events industry with more live walls and green screens, greenery signs and floral arrangements being used. We are also seeing a number of new clients reaching out from other industries bringing green innovation to a whole new audience. We are very excited to keep growing (pun intended) the business and being leaders in our field."
Environmental considerations are also a key factor for the business.
"At Event Plants we strive to be environmentally aware and reduce our impact wherever possible by building many quality products out of re-purposed and recyclable materials. We do not sacrifice the health of the surrounding flora and fauna for healthy stock. We use locally sourced, organic fertiliser made from environmentally friendly ingredients to ensure quality of stock and to minimise local impact.
"We are always researching and trialling new eco-friendly products that will complement our plants and trees such as planter boxes and edging made from recycled, sustainable materials, interchangeable fence panels and temporary flooring. We also capture rain water from all of our compound roofs allowing us to store the water and use when we are out on site or hold for the summer months to help minimise our usage of mains water.
Contact: 03 9548 2670 or visit: www.eventplants.com.au