CTE delivers the first ZED 25 HV in Serbia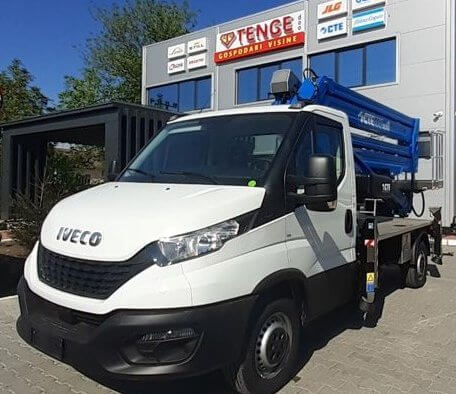 The CTE Serbian partner Tenge Doo adds to its rental fleet
The CTE Serbian partner Tenge Doo has taken delivery of an articulated truck-mounted ZED 25 HV mounted on Iveco Daily to be integrated in its rental fleet. ZED 25 HV represents the highest working height of the ZED range on 3,5 ton. Equipped with S3 EVO, the most advanced real time stability and performance control system available on the MEWP market, this model is the perfect solution  for all the working at height jobs at 25 m that require safety, versatility and compactness on site or on the street.
Every single maneuver is controlled by S3 EVO that, through the graphic display, indicates which maneuver is permitted to ensure the operator absolute safety. Stabilization, also managed by S3 EVO, is variable and allows the front stabilizers in any position with hydraulic extension of the crossbar and rear stabilizers fixed in shape. Thanks to CTE Connect is possible to optimize fleet management, remote monitoring, settings and assistance calls.
PERFORMANCE
Working height: 24,6 m
Outreach: 12 m
Capacity: 250 kg
DIMENSIONS
Length: 7.837 mm
Width: 2.249 mm
Height: 2.779
Weight: 3,5 ton
The owner of Tenge Doo, Ivan Beloica, declares: "I have always felt attracted to CTE's S3 EVO system for its guarantee of safety and stabilization versatility, and I decided to purchase the highest truck-mounted platform in the ZED range at 3.5 tons. For our rental fleet it represents an important addition and I trust that all our customers will benefit from it in terms of safety and operation at height".
Tim Hunt, CTE area manager for Serbia, adds "We are very happy that an esteemed Serbian company like Tenge decided on our ZED 25 HV, recognizing the exceptional performance, features and reliability of this popular model".
More info about CTE SpA: www.ctelift.com/en