Coates Hire launches reconciliation action plan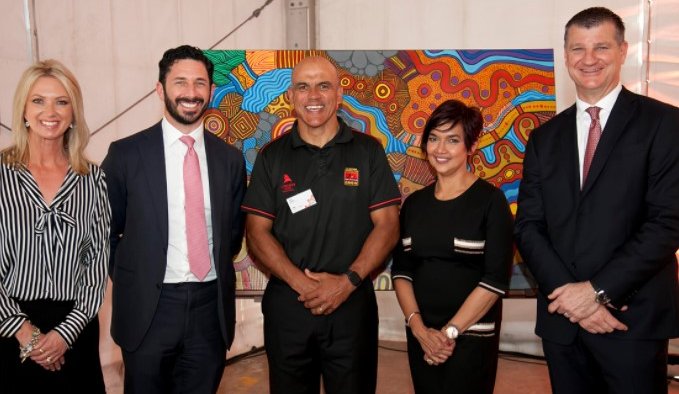 Coates Hire made its first step towards creating meaningful and respectful opportunities with Aboriginal and Torres Strait Islander peoples with the launch of our inaugural 'Reflect' Reconciliation Action Plan (RAP) in Sydney.
The plan provides a framework for Coates Hire to support the National Reconciliation movement. "As an Australian-owned organisation, we must ensure our business reflects our diverse society, honours the place of our first peoples and, most importantly, contributes in a practical way to reconciliation between Indigenous and non-Indigenous Australians," said Murray Vitlich, CEO of Coates Hire.
Meaningful partnerships
Special guests at the launch, held at Coates's Moorebank branch and livestreamed to employees across the country, included representatives of the NSW Indigenous Chamber of Commerce (NSWICC); Reconciliation Australia, the country's lead body for reconciliation; and the Clontarf Foundation, a not-for-profit organisation that supports the education of young Aboriginal and Torres Strait Islander men. Eddie Betts, a proud Wirangu/Kokatha/Guburn man, AFL legend and Coates Hire ambassador, recorded a special video message from his Melbourne home.
In addition, Ryan Stokes, Chairman of Coates Hire and CEO and Managing Director of Seven Group Holdings, announced a three-year partnership with the Clontarf Foundation. The investment – matched by Federal and State governments – will enable 120 Aboriginal and Torres Strait Islander men to participate in Clontarf's nationwide program for the next three years, including many in communities where both Clontarf Academies and Coates Hire branches co-exist.
RAP highlights
Coates engaged artist Jade Kennedy of the Tatti-Tatti/Wadi-Wadi/Muddi-Muddi – West Kulin Nation and Wajak/Kaardjin – Noongar Nation to create a bespoke artwork. In a video shown at the launch, Jade explained the inspiration behind his piece, titled 'Kengatha Kathiwatha Kathini' ('To grow, flowing water').
Endorsed by Reconciliation Australia, the RAP is built around four key themes – relationships, respect, opportunities and governance. Key targets include:
Providing cultural awareness training to all employees by June 2021
Increasing Aboriginal and Torres Strait Islander business procurement to 5% of suppliers engaged in a tender by 2022
Contracting 1% of total supplier spend to Aboriginal and Torres Strait Islander-owned businesses by 2022
Increasing the Aboriginal and Torres Strait Islander apprenticeship participation rate to 10% by 2025
Increasing the overall Aboriginal and Torres Strait Islander employee participation rate to 2.5% by 2025
Having celebrated this milestone in Coates's 135-year history, the work aims to create real change.
For more informations, visit Coates.