CMC Spider Lift chosen for Palace of Westminster restoration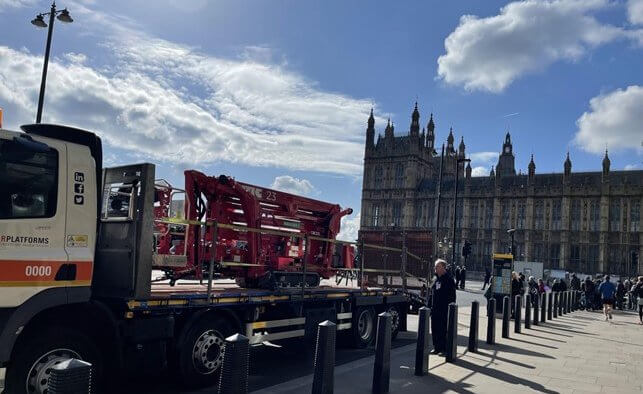 CMC, in conjunction with its subsidiary CMC United Kingdom, delivered the CMC S23 Spider Lift Hybrid to the Palace of Westminster at the House of the UK Parliament in April.
The self-propelled tracked platform will be used in the restoration and renewal work, along with the general maintenance of the historic and iconic building of British politics.
The Houses of Parliament Restoration and Renewal Program is a national infrastructure project to benefit local SMEs, create training opportunities and boost the UK's domestic economy.
Built-in the year 1016, the Palace of Westminster is a part of the UNESCO World Heritage site. It covers an area of 16 football fields and represents the UK's national identity and seat of democracy, as well as being a workplace and tourist destination. The refurbishment aims to create a modern, accessible parliament building while preserving its delicate architecture.
In late 2021 Star Platforms, working alongside CMC UK, won the tender to supply the CMC S23 Hybrid version to the prestigious Houses of Parliament.
Due to the age of the buildings, their cultural significance, and the nature of the work to be undertaken, the job required expert handling and negotiation to ensure the machinery acquired would be the best fit for the unique project.
The compact CMC S23 matched the brief with its working height of 23m, unrestricted outreach of 12.m, up and over clearance of 9m, low weight and the ability to reduce its track width to 85cm.
"Entering the Palace of Westminster with one of our platforms is just another international affirmation of 'Made in Italy'", said Alessandro Mastrogiacomo, CMC's Export Sales Manager. "Every day at CMC, more than 120 people work to achieve the objective of becoming the reference brand at a global level in the market for self-propelled tracked platforms.
"The successful outcome at such a prestigious customer as the thousand-year-old seat of the British Parliament is further confirmation of the validity of our choice, that of focusing and specialising in spider platforms, aiming at constantly improving processes, technologies, and economies of scale, so as offering the international market only products with the highest performance."