AUSA's 4×4 Forklift range focuses on high manoeuverability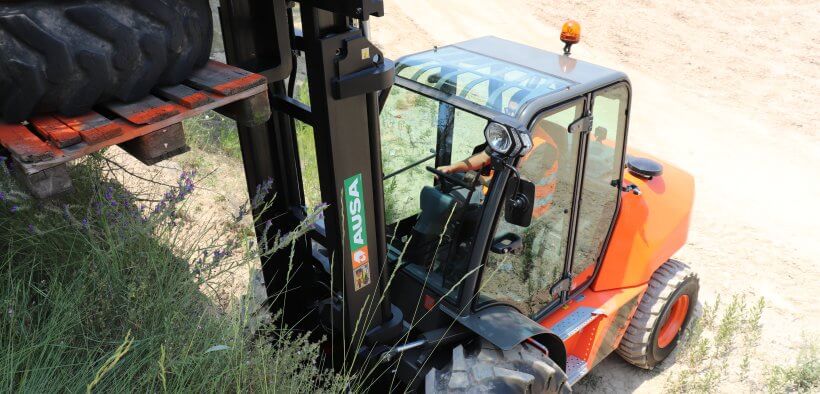 AUSA's 4×4 forklift range features a variety of versatile, compact and powerful models with features to suit any application. Ideal for the toughest and steepest terrain, these models are engineered to be highly manoeuvrable with a tight turning radius and reduced size — all without sacrificing lifting capacity or safety.
Three of the most popular models in AUSA's line of rough-terrain forklifts are the C251H, C351H and C501H. All three models feature a maximum lifting height of 5.5m with lifting capacities ranging from 2,268kg to 4,990kg.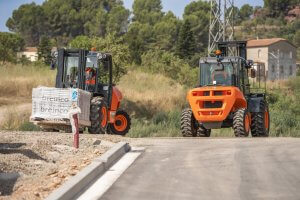 The C251H is the most compact of the three with a 302cm turning radius and an empty weight of 4,255kg. The C351H has a turning radius of 434cm and empty weight of 5,430kg, and the C501H has a turning radius of 439cm and empty weight of 7,670kg.
All three models are built with advanced technology such as a digital screen next to the steering wheel that displays speed, temperature, alarms, sensors and other statuses, and the operator can interact with the display using the cab's joystick to access information or run system diagnostics. These rugged and durable machines are also equipped with EcoMode, which automatically controls the engine's RPMs to deliver the greatest power with the lowest fuel consumption and emissions.
Operator comfort and convenience is front and center in the design of these powerful forklifts. The cab features 360-degree visibility for increased safety, while features such as an adjustable ergonomic seat and adjustable steering wheel with tilt and reach offer customization for increased operator comfort. Additional features are engineered for ease of manoeuvrability, such as the Hill Holder system, which keeps the forklift fully stationary when the operator's foot is removed from the accelerator.
Advanced equipment comes standard and includes features like a hydrostatic transmission, second-generation FullGrip tires, and an inching pedal. Standard forks are 120cm on a 126cm carriage with built-in side shift on the C251H and C351H, and a 166cm carriage on the C501H.
These high-performance machines are designed to be cost-effective, low maintenance and to provide reliable operation for years to come.
AUSA has been manufacturing compact all-terrain material handling equipment since 1956 and has 600 dealers in 90 countries. The company performs its own audits on its suppliers to guarantee the highest quality.
Ahern Australia operates four fully equipped sales and service facilities in Sydney, Melbourne, Brisbane and Perth that are supported by a network of field representatives and certified technicians.
For more information on these and other AUSA products, please contact Ahern Australia at 1300 900 700 or visit ahernaustralia.com.au.