Transport sector tops industry fatality stats for 2019
Safe Work Australia have released their latest report showing the Transport, Postal and Warehousing sector suffer the highest rates of industrial fatality, with vehicle collision accounting for 31% of all industrial deaths.
Agriculture comes second in the statistics, with 37 fatalities. However, the rate of deaths is more than double that of the transport industry with 11.2 deaths per 100,000 workers.
Operators and drivers at most risk
By far the most hazardous roles across all industries are those relating to machinery and driving, accounting for 51 fatalities in Work Safe's latest report.
The elevated risks to employees working with vehicles and machinery brings to light the importance of taking every safety measure available to keep workers safe.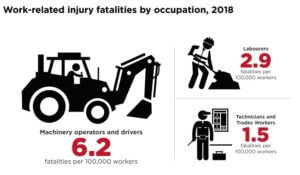 "As an industry body, it is critical that we continue to be at the forefront of compliance, training, supervision, selection and machine familiarisation. The Chain of Responsibility Laws are a prime example of how everyone from management through to the shop floor are now being held to account for their actions that could have an influence on the risks placed on those on the front line. At the EWPA and HRIA we want to make sure that MEWP operators and anyone involved in transport and logistics are trained to the highest standards," James Oxenham, CEO of the Hire and Rental Industry Association said.
For more information on EWPA Yellowcard operator training go to www.ewpa.com.au
For more information on the Chain of Responsibility, go to https://hria.learnupon.com/store
Or call the HRIA/EWPA National Office on 02 9998 2255.
To see all the statistics fro Safe Work Australia, visit their website at: www.safeworkaustralia.gov.au