Skyjack brings further optimisation to its boom range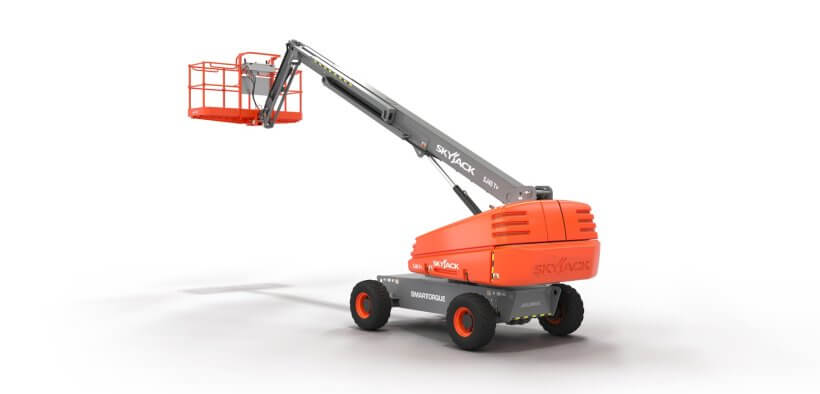 Skyjack recently updated their line of boom lifts with machine features that combine durability, quality, reliability and serviceability.
Ideal for use when extended horizontal and vertical outreach are key, Skyjack telescopic booms offer precise positioning capability and flexibility, providing high capacity with industry leading reach. In recent years, Skyjack announced upgrades to their telescopic boom range to give rental companies and users increased productivity while meeting changing North American design standards. In addition to changes made to address the new design standard requirements, further changes were made on the 40' and 60' models by increasing platform capacities. Having a range with increased capacities means that operators are able to complete tasks more efficiently across all kinds of applications. With these changes, capacities went from a single 500lb capacity up to a dual 660/1,000lb capacity.
Following these initial changes, additional updates were made to Skyjack's 40' models by applying the SMARTORQUE™ design philosophy deployed on other Skyjack products. These changes were driven by not only customer and user feedback, but also through data from the machines themselves. The updated control system provides additional insights when machines are equipped with Skyjack's telematics solution ElevateTM
Skyjack further recognised that some of its booms had room for further optimization. The team came to two key conclusions; these models were employing larger engines that machines themselves were not taking full advantage of, and the power they did have available was not being fully utilized by operators.
Utilizing optimized gearing and a simplified, high-efficiency hydraulics package, machines can employ smaller engines with less complex after-treatment components to deliver similar on-site job performance as higher-powered units. With these changes, rental companies can quickly improve their return on investment, lowering maintenance and fuel costs.
With this information in mind, Skyjack updated its boom range to employ engines that deliver the same on-site job performance as higher-powered units. The changes offer increased return for rental companies through:
Less emission regulation components
Reduced fuel usage through reduced engine size
No downtime related to after-treatment components
No expensive Diesel Oxidization Catalyst (DOC) or Diesel Particulate Filter (DPF) maintenance or replacement
No reliance on ultra-low sulfur fuel reduces cost of ownership and improves resale options
Reduced engine OEM intervention and associated loss of uptime
The combination of these benefits means more uptime and savings for rental companies, with little to no impact on job site navigation and operation.
The updates of course do not abandon classic Skyjack features including:
EASYDRIVE™, direction sensing drive and steer controls regardless of turret position over chassis,
AXLDRIVE™, an axle based drive system for excellent rough terrain traction,
SKYCODED™, a color-coded and numbered wiring system that makes troubleshooting and repair easier and more straightforward.
For information on the Skyjack range, contact:
JASON CRANMER
Sales and Operations Director
+61(0)2 9854 0700