Robot line-marker speeds major SA road project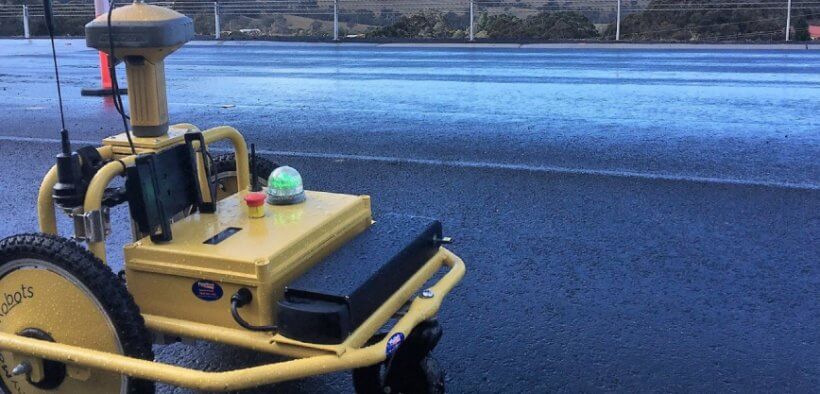 A robotic line-marker is saving considerable construction time at a major road infrastructure project in South Australia.
Fasttracking of the Port Wakefield Overpass was required when the construction site became one of many linked to the launch of the Federal Government's launch of the upgrading of the GPS reference station positioning network.
At a cost of $64 million, the upgrade will improve GPS accuracy from the current five to 10 metre range, to three to five centimetres in areas with mobile phone and internet coverage, according to the Federal Minister for Resources and Water, Keith Pitt.
Committing to the GPS upgrade meant the Wakefield Overpass works needed fast-tracking because its location forms part of the renewed infrastructure network. The expected completion date for the GPS upgrade is June 2023.
Robots to the rescue
Hastening the roadwork project has led to the introduction of the Tiny Surveyor, a robot that's able to complete line-marking in days instead of weeks. Position Partners, an instruments and systems sales and hire company, are supplying the machines to the SA government.
"Connected to the reference station network and utilising precise positioning technology, the robot automatically completes even the most complex line marking projects in a fraction of the time it would take using traditional, manual methods," said Martin Nix, CEO of Position Partners, the Australian distributor of Tiny Surveyor.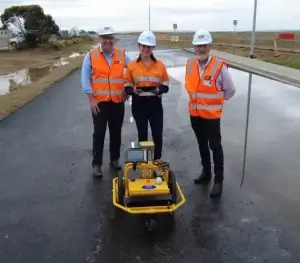 The South Australian Minister for Infrastructure, Corey Wingar, welcomed the introduction of the tiny robot at the Port Wakefield project.
"Gruelling and tedious tasks that would take survey crews weeks to complete manually can be done with this little robot in a matter of days, thanks to this new technology," he said.
"It enables the survey team to supervise the robot's movements away from heavy machinery and live traffic, helping to progress infrastructure projects safely and efficiently."
Position Partners provides intelligent positioning solutions for surveying, civil works, mining and building activities. The Tiny Surveyor is a GPS line-marker within their range of hire instruments and systems supplied to the geospatial, civil construction, building, mining, renewables, and other industries.
Find out more about the Tiny Surveyor here.