New compact crane loading deck for smaller construction projects
The new CCLP30 Crane Deck is a 3T cantilevered crane loading platform that safely lifts construction materials and equipment on or off floor levels by crane
A new compact crane loading deck from East West Engineering is the perfect solution for loading and unloading construction materials on smaller multi-storey construction projects, according to material handling products supplier, East West Engineering owner Ron King.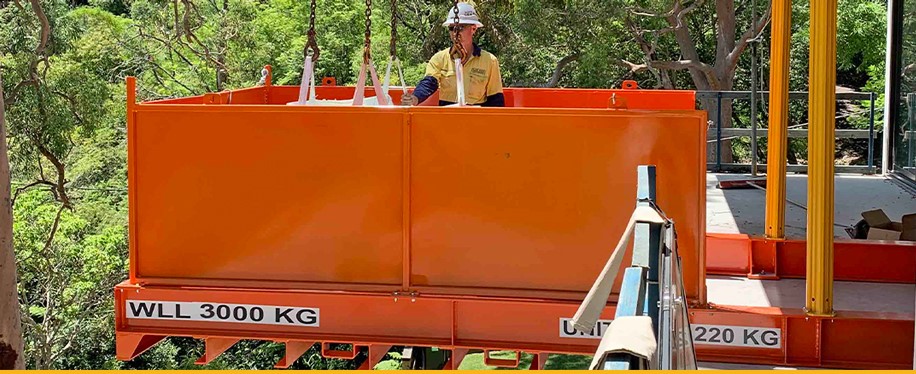 The new CCLP30 Crane Deck is a 3T cantilevered crane loading platform that safely lifts construction materials and equipment on or off floor levels by crane during construction or demolition.
Featuring a 2.8m x 2.26m outboard suitable for up to two pallets and requiring only 2.8m of space inside the building, this lightweight 1.22T platform is designed to suit smaller jobs with limited space and smaller loads.
"The growing Australian population has increased the demand for high density living, placing pressure on construction companies to build taller buildings with tighter boundaries," Ron said.
"With cost playing a major role in the decision (and affordability) of every construction project, it is critical to manage productivity to ensure building works are completed in time and on cost.
"Better site productivity through more efficient handling of materials, provides time and cost benefits for both labour, equipment hire and project completion," Ron said.
Ron said the CCLP30 Crane Loading Deck is the perfect addition to East West Engineering's core range of more than 250 products in its growing construction equipment range.
"We receive many inquiries for custom built loading platforms to suit smaller projects," Ron said.
"Without a loading platform the only accessible place to bring materials into or out of a building would be the bottom and top floor which requires ramps for workers to push heavy materials between floors. Not only does this cause risk of injury, but is extremely inefficient and unproductive."
"Our new loading deck's compact, lightweight design will make this platform an affordable solution for every building site."
About East West Engineering
East West Engineering has over 35 years' experience in the design and manufacture of lifting equipment used in construction. The company began in 1974 evolving from its start as a successful Sydney based steel fabrication and installation business founded by Ron King.
During work on large government projects, a lack of quality engineered and certified lifting equipment needed to efficiently run operations resulted in the development of the first of many jib attachments.
After growing interest from the industry, East West Engineering was established in 1981 as a specialized design division, designing and developing, quality engineered material handling equipment that improves workplace performance and productivity.
Today, East West Engineering is one of Australia and New Zealand's leading suppliers of forklift attachments and material handling equipment. Its range includes: forklift attachments; crane and overhead lifting; drum handling and storage; waste and storage bins; stillage cages, gas cylinder storage and trolleys; telehandler, tractor and loader attachments.
Contact: 1800 061 998 or visit: www.eastwesteng.com.au/cclp30[/vc_column_text][/vc_column][/vc_row]