Moving away from the map
Skyjack has been working with customers to ensure Elevate, Skyjack's telematics system, identifies critical data points to help create better processes.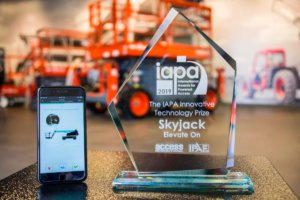 The top issues identified by service techs included on-site battery management, battery management at the branch and operator familiarity and has led Skyjack to help customers eliminate unnecessary costs.
"It's been our mission from the start to incorporate our customers' goals for telematics into our own, and that's what we're doing with the products within Elevate's digital suite," David Swan, Product Manager of Technology and Innovation at Skyjack said.
"We spoke with service technicians and rental companies to identify the top service issues they see, and determine which data points could help them eliminate unnecessary service calls and maximise uptime for our customers."
"Regarding the battery issues, Elevate's ready to operate indicator gives service technicians the ability to remotely see whether or not the operator has the controls configured properly to function the machine. This allows service technicians to resolve the most commonly seen issues without unnecessary onsite visits.
"These are data points the service technician can see while still on the phone with the operator, which gives them more remote troubleshooting power than ever before," David said.
"This means issues that used to lead to an on-site service call can be solved through a single phone call. That's eliminating unnecessary costs and most importantly, a better customer experience."
Elevate On, a product within Elevate's digital suite of services recently won an International Award for Powered Access (IAPA) for Innovative Technology at IPAF's annual meeting. The app is designed for MEWP operators and their supervisors as an efficient way of guiding and tracking safety pre-checks and flagging maintenance items in advance. Elevate On streamlines processes and contributes to a safer job site.
Brad Boehler, President at Skyjack said the next item Skyjack is working on for Elevate is a shift away from the map and moving towards an analytic dashboard through Elevate Tiles.
"It's a dashboard style analysis that gives Elevate customers an overview of their entire fleet's charge history, battery life percentage, and problematic charging behaviors," Brad said.
"We knew from the beginning telematics has to be more than pinpoints on a map; it needs to provide real data that can positively impact business processes."
Skyjack announced its advanced battery management system that drives these insights will launch with updated Skycoded machines in 2019.
Visit: www.skyjack.com