Locally grown Kerr's Hire celebrates 40 years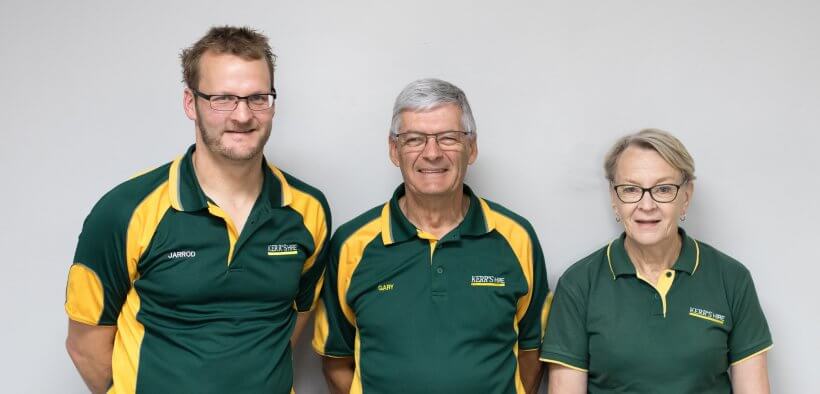 On the notable date of 2/2/2022, North Geelong based Kerr's Hire turned 40. The Kerr family paused at this milestone anniversary to recall a timeline of expansion for the venture that started with the simple goal of supplying its community with hire gear from a locally owned business.
When the doors first opened at Kerr's Northside Hire in 1982, its staff consisted of husband-and-wife, Gary, and Heather Kerr (pictured, with son Jarrod Kerr); a driver-mechanic employed in the yard; and occasional help from Gary's parents.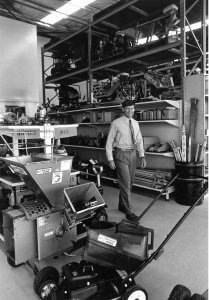 Gary vividly remembers the company's finances at close of business on day one.
"We had four customers and $77 worth of sales," he said. "By the end of the month, we had only $4,000 worth of sales. This allowed us to pay off some of our debts."
From then on, most of Kerr's income went to increasing their hire fleet to satisfy the demands of customers as the business grew.
Setting and smashing targets
With his solid professional hire experience and a target in mind to measure their success by, Gary quickly outperformed his early aspirations.
"As I had worked for Geelong Hiring Service for 10 years prior to starting Kerr's Northside Hire, I had good knowledge of hire company operations," he said.
"I knew what types of equipment their customers were hiring frequently so I purchased those products for my hire fleet. I also knew how much turnover the business had. I set myself a goal that if I could get 50 per cent of their turnover in 10 years, I would be very happy. Six years after we started, we had 100 per cent of their turnover."
The present staff roll-call at Kerr's is 24 people across three branches, and a large sales and service business. Growth accelerated in the early years, after securing major contracts from local industry, and by 1988 the business had outgrown its original premises.
"We built a new purpose-built hire yard 500 metres down the road where we still reside today," said Gary. "I was very comfortable with a one branch hire business until [Gary's son] Jarrod started with us full-time. In 2009 we purchased the equipment of Leading Hire in Grovedale and rented their property. We expanded again in 2016 and opened our Ocean Grove store. Our current facilities across all stores are very similar in their design with our latest, Ocean Grove, being built in 2019."
Surprises and highlights
Gary's career highlights are centred around his industry recognition among peers, and the fulfilment achieved from personal participation in the development of Australia's hire sector, which was valued at $8.8bn* in May 2021.
"My biggest surprise was winning Hire Company of the Year 2012 in Victoria and then National Hire Company of the Year in Sydney in 2013," said Gary.
"Another highlight would be my involvement in the hire industry associations, firstly with the Victorian Hire Association committee, and becoming president in 1997.
"Then, being involved in setting up the national Hire and Rental Industry Association (HRIA) and becoming the inaugural national president for seven years.
Gary's close involvement with the association includes his valuable contribution of time and knowledge to the HRIA taskforce for protecting equipment hire from the Personal Properties Securities Act (2009). As a result of this work, the PPSA was revised in 2017 to reduce the potential risks this law posed to hire businesses. HRIA lobbying is ongoing today, to exempt hire businesses from the Act.
Second generation
Jarrod Kerr started working in the family business at age 15. He progressed to mechanic and driver, then hire controller in 2003. In 2017 Jarrod became general manager. His focus on growing the multi-faceted business has been put to the test during the past two years.
The company's resilience during the COVID-19 pandemic reflects the hire sector's importance to communities in times of general economic upheaval. As it did with the global financial crisis of 2008, the Kerrs adapted to the uncertainty of the past two years and survived well.
On the Kerr's Hire website, along with his archive of photos and newspaper clippings of the company history, Gary Kerr recalls how the GFC adversely affected many local industries shortly after Kerr's marked 25 successful years at North Geelong in 2007. But demand for hire remained strong. In fact, it was in 2009 that Kerr's dropped 'Northside' from its name to reflect its geographic expansion to the south at the time.
But like all business managers in 2020, Jarrod was braced for the new global crisis with no way of predicting its duration or consequences.
"The COVID-19 pandemic obviously had a massive impact on all industries, positive and negative," he said. "We were one of the lucky ones, however it wasn't all smooth sailing."
"I remember the first few weeks when all the national lockdowns were happening, I decided to isolate myself from staff and work from home. I spent several days working out how our business could survive if there was a massive downturn."
Connecting with HRIA
Jarrod also turned to the HRIA for support. The company's membership gave them immediate access to hire industry specific workplace relations advice from HRNet, which helped Jarrod manage the complex situation of dealing of with an unknown financial future.
"I had discussions with HRNet and came up with a plan that would allow me to pay staff a reduced salary and let our business to survive for several months."
Jarrod says he filed away the staff agreements that prepared for this unpleasant potential scenario but "never looked at them again". Fortunately, the business didn't suffer a downturn, although urgent adjustments were needed to continue trading.
"We had to adapt to the climate caused by the long lockdowns that occurred in Victoria," said Jarrod.
"We implemented social distancing and density limits in all our stores. Every week came with a different change, and we eventually went to a full click-and-collect service, as it was required by our state government. Surprisingly enough, our customers loved this service, and we are continuing it to some capacity now, even though the restrictions have lifted".
Hands-on hire and flexibility
When they're not working to outsmart pandemics and other financial crises, or building new showrooms, Gary and Jarrod remain focused on continuing the traditions that inspire loyalty from their ever-expanding regional customer base.
"I know it sounds cliche, but our focus is our customers and delivering high-quality service," said Jarrod.
"Price is irrelevant when you deliver a high-quality service, and that justifies the rates. Other abilities that smaller hire companies have over larger competitors is making decisions on the fly, and not being bound by rules or limitations.
"Myself and senior management can deal with more complex and obscure questions or problems arising from customers. We can make decisions quickly that have a positive impact, as we know that once you have helped a customer and given 100 per cent satisfaction, you will have that customer for life."
Like his father, Jarrod appreciates the timeless value of professional networking in this unique industry where competitors freely share experiences and knowledge with enviable camaraderie.
"Being part of the HRIA is very important to new and starting hire businesses," he said.
"With approximately 75 per cent of all HRIA members being family run, or single branch operations, these people are not direct competitors and can be a wealth of knowledge if you only ask.
"I've spent most of my career in the industry building relationships with other hire companies and their people, talking often and asking each other for advice. I was taught this by my father, Gary. When he started, he had assistance from his previous boss and through his time in the Victorian Hire Association he met several like-minded people who put him on the journey that he has had today."
A year of celebrating
Activities promoting the Kerrs' 40 years in business will continue throughout 2022, with in-house raffles at their branches, merchandise giveaways, and even onsite live radio broadcasts. In October, Kerr's Hire will exhibit at the Royal Geelong Show to share their milestone achievement with the local community that has contributed to the family's success story.
Find out more about the benefits of HRIA membership here.
* AU Industry (ANZSIC) Report l6631: Machinery and Scaffolding Rental in Australia, May 2021, IbisWorld.com.