Links Pumps' Huge Asset Sale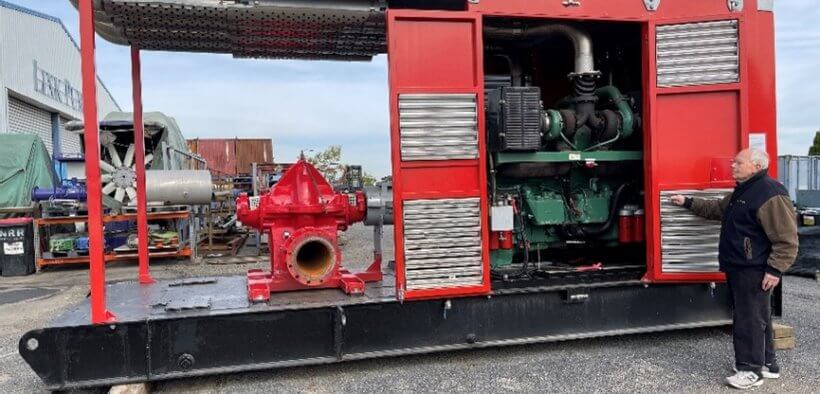 After 62 years in business, John Link finally plans to pass on his pump hire equipment.
Having started in business at the age of 23 with a crop-spaying company, the uncertainty of the seasons led John to start Link Pumps in 1969, which he soon grew from one pump to become the third largest exclusive pump hire business in South East Asia by the early 1980s.
At the time, the pump range was one of the widest in the world, focusing on niche industrial pumps; mainly, high-pressure, multistage, chemical & corrosive pumps and keeps, outside of the mainstream areas of pumping, better handled by general hirers.
John appeared in the HRIA's Hire and Rental Magazine back in August 1981.
Link's pumps have been used on major projects both here in Australia, including the North Rankin A (NRA) platform, which is one of the largest capacity gas production platforms in the world and serves as the central hub of the Woodside-operated North West Shelf Project's offshore gas production system; as well as dewatering mines and specialized hire work within Australia. Overseas work has included stand-by firefighting units used on South China Sea oil wells, burying pipelines in Saudi Arabia and tank-testing in Yemen.
Items offered for sale include:
Up to 19 containers of diesel engines and electric pump sets and spares

These range from metering pumps to firefighting units with 1000 hp and 2000 hp pump sets.

Approximately 200 submersible pumps ranging up to 200 hp
A large range of multi-stage bare pumps ready to mount

Pipe fittings, reducers, valves and strainers and other ancillary equipment.

3 km of poly pipe, steel pipe, 3 km of layflat hose, complete with a retrieval system.
Items for sale represent all the equipment to start a new business or enlarge an existing one.
When sold as one lot the company records and technical information will be included in the sale.
The total value of assets is expected to invite expressions of interest in the range of $1.5 to $2 million dollars. It is the largest sale of its type ever in Australia with over 2000 items available.
Interested parties should contact: JohnLink@linkpumps.com.au
Or call 04 1936 1237. Williamstown, Victoria